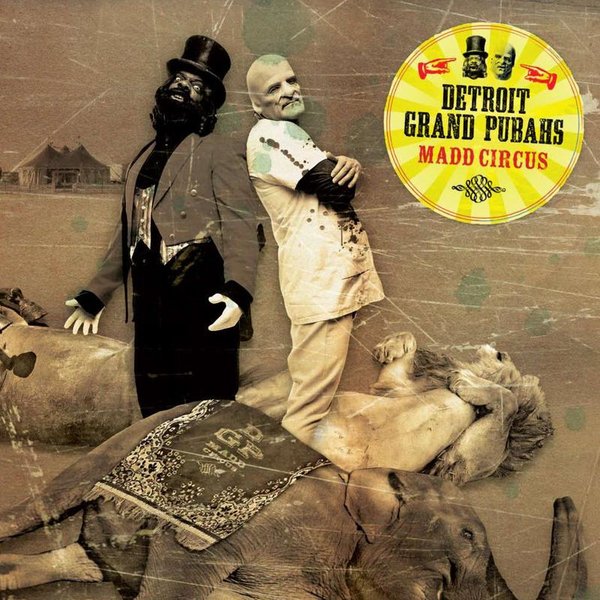 Those fine purveyors of funk-fuelled electronics, Detroit Grand Pubahs are back with their fourth studio album this September. This time the crazed ringmaster, Paris The Black Fu resides over the 'Madd Circus' with his equally deranged side-kick, Mr.O making sure that the animals are entertained and the kids are kept in check. Or should that be the other way round?

Originally founded in Detroit back in 1998, the Pubahs have been on a constant voyage of recovery ever since. Bringing a touch of Funkadelic to what can be a rather stale techno scene, the Pubahs' unique voice and image injects humour and drama into the one thing they take most seriously above all else, their music. For the Pubahs are no novelty act, there is method to the madness and bass in the badness. It's all about personality (well split personalities) and a mission to put the fun(k) back into techno.

Whilst the previous two Pubah's albums 'Galactic Ass Creatures From Uranus' and 'Nuttin Butt Funk' could be seen as a techno-rump-obsessed double-bill, 'Madd Circus' sees the duo return to the booty, electro-pop and funk of their critically acclaimed debut 'Funk All Y'all' and the skizoid electro of Paris's debut solo release 'Mad Circus' on Detroit indie Throw. As Paris himself states, "this album is a journey into the booty electro and pop contempo - almost funk but not quite so."

What we have is a left turn for the Pubahs as they prepare to sell tickets and open the doors to the Madd Circus. Did someone say dead elephants, tigers and horses? No they're not dead just driven madd by the Ring Master FU and the freak inhabited Mr O. From the opening electro-pop of 'Autotragik' and recent single 'NUmb Deaf and Dumb' (see video here: www.youtube.com/watch?v=M9TXQdX35lw) the Pubahs are back on top electro form. The electro booty of 'Zombies Playing Dead' fits well with the skittish, Drexciyan style funk of the closing 'Clone Mobile' whilst tracks such as 'Mashed Potato' are pure, unrefined funk.

'Breakfast In Bed' sees Barry 'the love walrus' White taking over as Paris declares that 'there's no reason to get out of bed cause the buffet is right here', 'Maybe I Do' and 'Madd Circus' fire a droning rock workout and twisted drum n bass into the crazed big top and 'Mysterious Sights' drops a bass heavy dubstep sound into travelling freakshow that can only be the Detroit Grand Pubah's 'Madd Circus'.