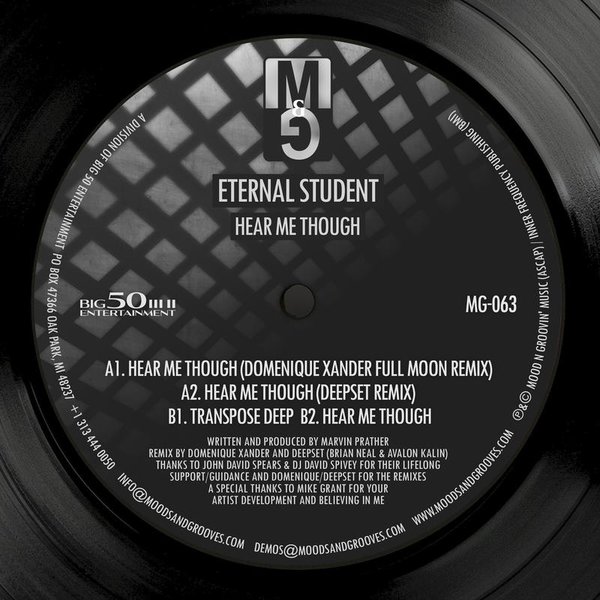 Moods & Grooves proudly introduces another new face, this time from the Detroit scene. DJ Eternal Student (aka Marvin Prather) steps up to the plate with his melodic track Hear
Me Though and a deep groove entitled Transpose Deep.
Hear Me Though combines a funktastic bass line with some heavy breathing drums, strumming synths, xylophone like keys, and a sexy vox to create a wonderful head bobbing groove all on its own. Hot remixes of Here Me Though come courtesy of Domenique Xander (Berlin) and Deepset. Domenique puts a nice wash over it with panned and echo'd claps, drums, and very dreamy pads to create a stellar remix. Deepset ( a partnership between Brian Neal and Avalon Kalin) provide an up-tempo deep groove with a banging kick and swinging vocal chops to accompany the original vox of the track. A new bass line and funky congas produce a warm and lush version of the original. The synergy these producers had is incredible, all vibing from Marvin's original version.
Transpose Deep is a climber. It starts off very unassuming with a solid 4 on the floor kick that morphs into solid synthy pads, and a funky bass line before it breaks into a full sprint of these elements, a bass that growls at you, and hats that swing hard.