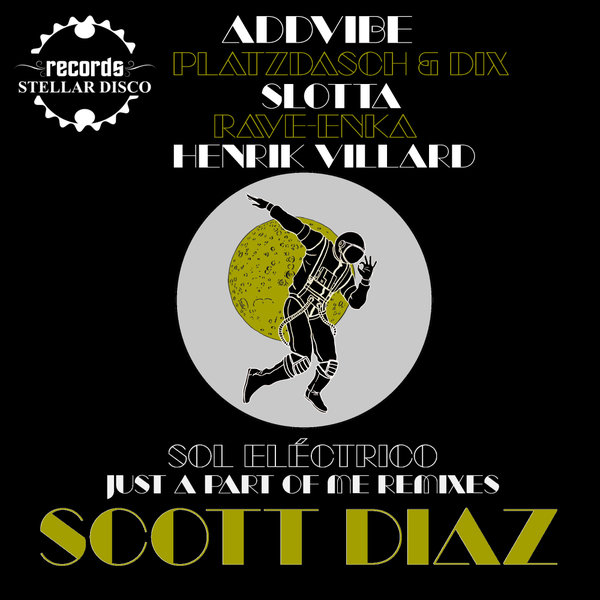 SDR013 is here and what a package we bring this time. Just A Part Of Me Remixes by Sol Electrico featuring remixes by SCOTT DIAZ, ADDVIBE, HENRIK VILLARD, SLOTTA, RAVE-ENKA and PLATZDASCH & DIX.

Sol Electrico are made up by the jazz musician Georg and R&B singer Anika. The song is taken from the Take It Away album from 2013 on Operating System. They have a number of releases on compilations like Cafe Del Mar and Ibiza Beats.

SCOTT DIAZ has taken the song straight into peak time and made a serious floor filler. Kept the vocal and rebuilt from there. A driving beat,stabs, a funky bassline and a killer piano filtered in and out are the ingredients of this dope remix. Scott is one of our favorite producers for sure, so we are so happy to have him on this package. Everybody Loves The Sunshine Daybreak Remix on Soul Love, We Reminisce on Blockhead Recordings, Endless Luminosity on SubUrban and Horny Gospel Excurison on Peppermint Jam are just a few of Scott's tracks stirring up clubs globally at the moment. Scott is also the mastermind behind the excellent ladel Grand Plans.

ADDVIBE brings a killer afro beat and dubs it out with his Deepfro Mix. Filtered piano stabs, a deep bassline, arpeggiated marimba lines, and strings under dubbed vox is the recipe for this version perfect for those sunrise sets. Addvibe is another of our favorite producers, followed for about 2 decades. The output on labels like Arawakan, Open Bar, Global Diplomacy, Glasgow Underground (just to mention a few) alongside his own imprint Vier Deep Digital is just impressive. His new album WE is a must have. Did you also know that Addvibe is the man behind edit don Lux Experience? Sick right!

HENRIK VILLARD brings his fusion of deep disco house. A bumpin beat with lush pads with a funky bassline is what the vocals are riding. Another one for the peaktime hours. Henrik is a young Norwegian producer that despite his young years got an impressive list of releases on quality labels like SubUrban, Nite Records, LW Recordings, Royal Plastic, Puro Music and La Vie d'Artiste Music. Henrik is deffo one to watch out for.

RAVE-ENKA strips away excess material and takes this one to the minimal side. A leaning percussive intro, kicks and toms, omnious clever efx and a dark synth gives the vocal room to breathe. Should be a killer on minimal floors this summer. Rave-Enka is a very talented Norwegian producer, also known as one half of De Fantastiske To, who are out with their 12' on Black Riot now . As Rave-Enka you can find him on quality labels like Paper Recording, Paper Disco, Sprechen, Nein and Beatservice.

SLOTTA keeps his path deep with his interpretation of the song. Keeping the vocals sitting on top of lush pads and stabs, building intricate melodies that hugs the vocal tight, and adding interst with building the beat step by step, this is one for the sunset sets. Slotta is a young producer from Swaziland and you find his always deep music on labels like Antidote Music, Deeper Shades Recordings, Surreal Sounds Music, and Stellar Disco Records.

PLATZDASCH & DIX features a reprise of their remix which was just released on their Luftig & Leicht EP, a masterpiece which got massive support from industry leaders. We wrote then and it is kinda the theme for this release, that Platzdasch & Dix 'transforms this into a whole new tune. Just outstanding work that shows that remixes can help the original artist shine even stronger. ' Besides Luftig & Leicht which is a must have, the guys has gained a lot of traction lately with releases on oustanding labels like Tenor, HiFi Stories, Peppermint Jam and Gents & Dandy's.

SOL ELECTRICO gives you the oportunity to get to know their original version. Get to know their music and check out their album if you like the fusion of jazz,r&b and chillout.

If you like the EP, please help us make the atists stand out. You can do this with charting them and palying their music. Thanks.