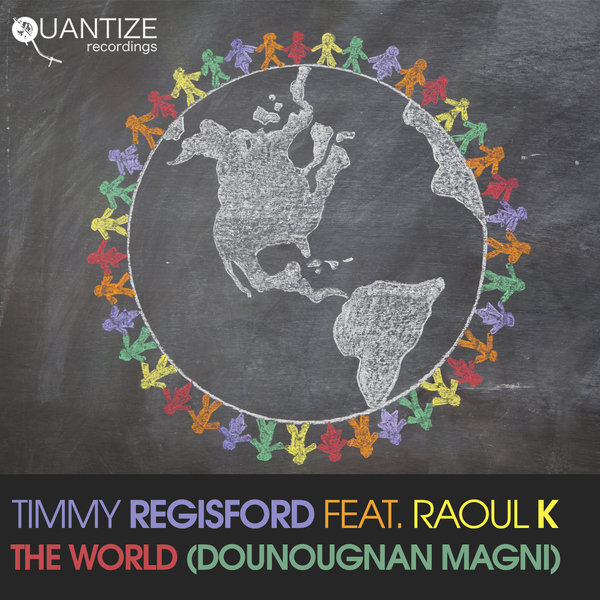 Timmy Regisford ft Raoul K "The World" (Dounougnan Magni)

(Raoul k)

Produced, Mixed & Arranged by Timmy Regisford
Written & Performed by Raoul K
Copyright Control
____________________________________________________________________________

Here at Quantize Recordings, we regard legendary producers with much honor and respect. Timmy Regisford fulfills all of those quantities. He is renowned around the world for his original sound of Soul, Afro, and Dance Music. Single-handedly, he has ignited the world with his unique perspective and productions as a DJ and producer.
Featuring the vocal work of Raoul K, "The World" captures all that we love about Timmy. His classic energy, rhythmic drumming, compulsive musicianship, and iconic vocals will drive this song into playlist worldwide.
"The World" easily showcases Timmy Regisford and Raoul K's passion and solid foothold of what New York (and the world) expects.
We know you will enjoy this musical journey in a song that is sure to be playing all Summer!
____________________________________________________________________________
1. The World (Dounougnan Magni)
(Timmy Regisford Remix)

Bobby & Steve "Loving the vibe"
Candice McKenzie "Love the vibe and energy on this one, thank you Quantize"
craig Bartlett "love this - great sound / vibe"
Craig Stewart "Perfect to set the mood, thx"
Danny Krivit "Nice one :)"
Darren Deluca "Love it"
davide fiorese "REALLY NICE!!!!!!"
Deff Afrozilla "Superb full suppor!"
Deli G "One For The True House Headz With Open Minds"
DJ Biskit "Nice groove!"
dj booker t "Wicked Tune will support"
Dj Damond Ramsey "InHeavy Rotation"
Dj Diephuis "Heavy afro hitter! Dope!"
DJ Kik "Thanks a lot :o) DJ_KIK"
DJ Sir Charles Dixon "will support"
DjPope "nice"
Donna Edwards "Shelter vibes hp shaking!"
Ed Soul Kaya FM) "Sounds Dope!!"
EDDIE Boom "CLASSIC IN TIMMY REGISFORD MANNER NICE VIBE"
Geoffrey C "I'll play this during my "Afro" sets"
Hippie Torrales "Nice production and tune."
Jerome Hicks "sick"
Just Mo "Hot track! got my support."
Luis Radio "cooool"
Master Kev "Great work from the maestro, will definitely be playing this!"
Mind Street "Nice One"
Naeem Johnson "hot mix by timmy bravo....."
Nico De Ceglia "Nice one"
NY House Radio "fantastic track! Will add to rotation prime time..."
Ollie Blackmore (Soul-Heaven) "Deep fire!"
Oscar Gil "love it!"
Peppe Citarella "Good Vibe !!! Thank You !!! Peppe Citarella"
Ricky Morrison "Nice!"
Russell Pollitt "Solid stuff here..."
Souldynamic "thank you ! Top track from the master! full support"
Thomas Lytel "I like it!"