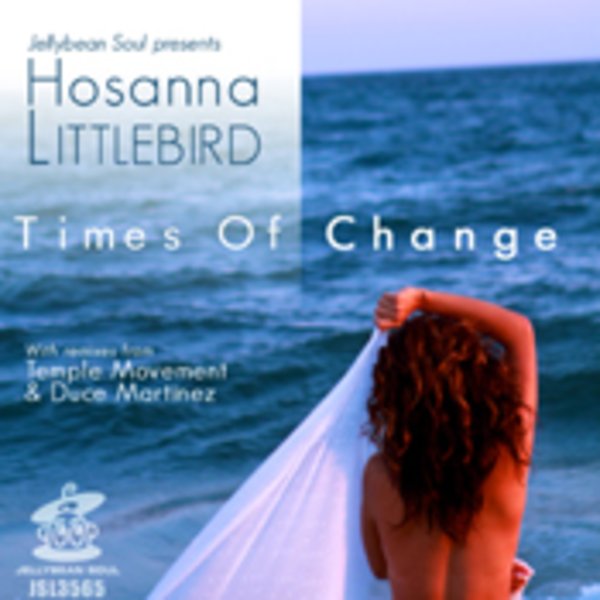 The newest offering from Hosanna Littlebird on Jellybean Soul: "Times Of Change"Hosanna creates magic once again with her latest single "Times Of Change". Combining efforts with three power-House producers, her light and sweet melodies combined with her timely lyrics send us all a positive reminder that we can always change things for the better!

Mixes from the Temple Movement team of Ruben "Latin Bull" Toro (of KISS FM fame) and Adam "ADRS" Rios (co-producer of the Peven Everett mega-smashes "Burning Hot" & "Inspiration") and Duce Martinez, who has released a string of successful records on labels such as Defected, Vega, Tribe and Jellybean Soul!

EARLY FEEDBACK:
"Deep Seductive Club Shaker! Music to dance, sweat and prance. Hosanna Littlebird shines" - Tony Carrasco (USA)

"Beautiful. Stunning vocal and lush music!!" - Andy Ward (UK)

"Wicked release full support" - Luis Radio (ITALY)

"So deep and soulful... and so lovely!" - Raul Campos (USA)

"This is the hotness right here! Both mixes! Great vocal and production." - DJ Oji (USA)

"Another very nice vocal from Hosanna. Thanks!" - Ralf GUM (GERMANY)

"Great package. Hot Hot Hot!!!" - David Harness (USA)

"Really feelin the Temple Movement Club Mix...NICE!!!!!" - Sean McCabe (UK)

"Duce Is Wild [Mix] for me " - Jask (USA)

"So in love with Hosanna's vocal styles- uplifting and fresh. Production duo Toro & Rios can do no wrong, solid beats provide the backdrop. Duce's rhythmic version with throwback horn sample is mad flavorful." - DJ Kamala (USA)

"Lush vocals from the very talented Hosanna! I've felt this from the first time I heard Jellybean play it" - Master Kev (USA)

"Cool soulful lounge house lovely vocals" - Danny Rampling (UK)

"Nice production as always, thank you for the nice Remixes!" - Rocco Rodamaal (FRANCE)

"Great song!!!! Both mixes sounds great !!!" - Greg Gauthier (FRANCE)

"Love the Duce is Wild Club Mix! Beautiful Vocals and deep basslines!! Love it!! Absolutely Kickass!! Can't wait to play this!" - Dino Michael (SOUTH AFRICA)

"Loving Temple Movement Club Mix...Full support :)" - CJ Mackintosh (UK)

"Wow I'm all over this- just fantastic dreamy vocal, beautiful house music! 5/5 Love it love it! full support" - Joey Silvero (UK)

CREDITS:
Produced, Arranged and Mixed by Ruben "Latin Bull" Toro & Adam "ADRS" Rios
Written by Hosanna Littlebird, Ruben Toro & Adam Rios
Published by Latin Bull Music / ADRS Music / My Soulmate Songs (ASCAP) / My Innersoul Music (BMI)
Additional Keys by Tiger Wilson

Duce Martinez Mixes:
Mixed and produced by Duce Martinez for The Duce Is Wild Productions
Recorded at The Living Room Studios, Newark NJ
Sax parts and solo by Dave Watson of Chops


Mastered by Emanuel Geller @ Salz Mastering – Cologne, Germany

Graphic Design: LéaGraph'

Executive Producer: Jellybean Benitez

Visit us at our website: http://www.jellybeansoul.com

Facebook:
http://www.facebook.com/pages/New-York-NY/Jellybean-Soul/8133353042

Twitter:
http://twitter/jellybean_soul

Jellybean Soul TV:
http://www.youtube.com/jellybeansoul

MySpace Links:
http://www.myspace.com/jellybeansoul

For inquiries, please send email to:
info@jellybeanmusicgroup.com

(p) & © 2010 Fuego Media, L.L.C.