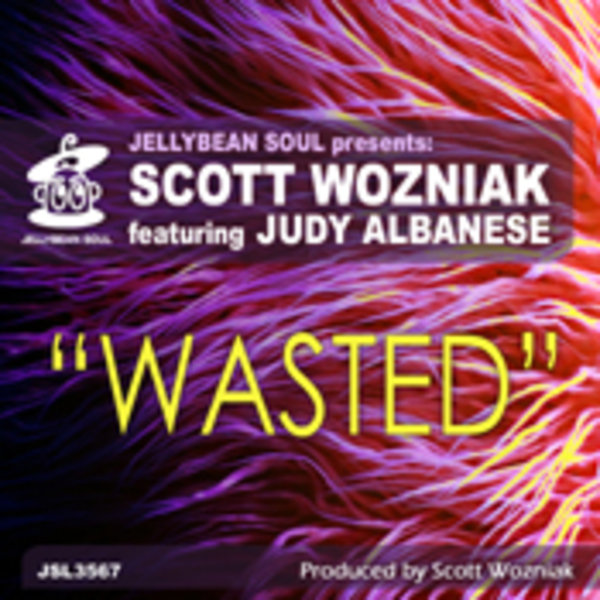 Wasted
Scott Wozniak Club Mix

(6:59)
Wasted
Scott Wozniak Dub Mix

(6:59)
New music from Scott Wozniak on Jellybean Soul: "Wasted"We are super pumped about this latest offering from Scott Wozniak! "Wasted" is an exciting mixture of deep, techy, funky House brought together by the lovely dance music veteran Judy Albanese!

EARLY FEEDBACK:
"Modern deep track! Will play it for sure." - Rocco Rodamaal (FRANCE)

"In one word...Awesome! Thanks for the great music." – Raul Campos (USA)

"This is a hot track. Definitely will be playing this." - Quentin Harris (USA)

"This has been a staple for me for quite some time, SMASHES the peak hour crowd for me time and time again. One of Scott's best. This has anthem written all over it. Well done!" – Master Kev (USA)

"Solid!" - Henri Kohn (IBIZA)

"Pumping Electro Seductive Beatrunner featuring the filter lovely vocals of Judy Albanese! Essential Dance floor Magic!" - Tony Carrasco (GERMANY)

"Man I love this!" – Abicah Soul (USA)

"Nice & progressive. Dope package by Scott & Judy" - Jihad Muhammad (USA)


Produced by Scott Wozniak
Lyrics by Judy Albanese
Music by Scott Wozniak
Published by My Soulmate Songs, L.L.C. (ASCAP) / 2 Kids And A Dog Music /Judith Albanese Songs (BMI)
Engineered by Jay-J
All instruments and programming by Scott Wozniak
Recorded @ Woz's Lab, Brooklyn, NY
Extra special thanks to Michael Goggins

Mastered by Emanuel Geller @ Salz Mastering – Cologne, Germany

Executive Producer: Jellybean Benitez

Visit us at our website: http://www.jellybeansoul.com

Facebook:
http://www.facebook.com/pages/New-York-NY/Jellybean-Soul/8133353042

Twitter:
http://twitter/jellybean_soul

Jellybean Soul TV:
http://www.youtube.com/jellybeansoul

MySpace Links:
http://www.myspace.com/jellybeansoul

For inquiries, please send email to:
info@jellybeanmusicgroup.com

(p) & © 2010 Fuego Media, L.L.C.