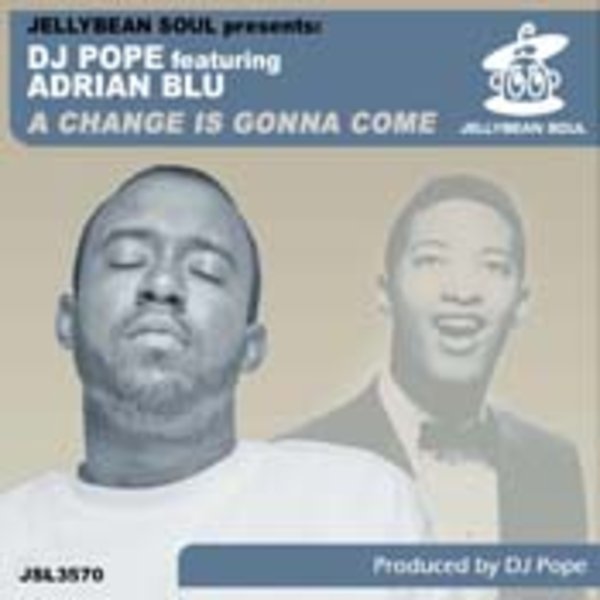 DJ Pope featuring Adrian Blu create a soulful house interpretation of the Sam Cooke classicChicago native and Baltimore legend DJ Pope began his spinning career in the 80's and quickly moved into producing, with several releases on major and independent labels alike. His latest production blends the soulful house vibe with the classic Sam Cooke release "A Change Is Gonna Come", performed by Adrian Blu, a self-described soulspirational-folk artist. Adrian Blu has travelled with the band Fertile Ground as a back up vocalist, and has opened for artists such as The Bar-kays, Frankie Beverly and Maze, The Time, Cameo, Anthony Hamilton, Vivian Green, Raheem DeVaughn and Chuck Brown.

EARLY FEEDBACK:
Kevin Hedge (USA): "Great song! Bang'n DJ Pope Pumpin Club Mix"

Henri Kohn (Germany): "Solid soulful bizness!"

Sting International (USA): "Nice vibe on the vocal, and the groove has that phat old school feeling with a twist of new in it. Imma rock this one"

Franco De Mulero (Ibiza): "Another amazing release on Jellybean Soul. I am really feeling this. Full support"

Dr Bob Jones (UK): "Wow this is very brave- turning a Sam Cook 60's classic into a full on inspirational dancer. Great rhythm tracks and sublime vocals on all mixes, but for me Pope's Basement mix just has the edge. Full support on this – beautiful"

Tedd Patterson (USA): "Very nice work. I'm feeling the 95 North remix here. Really good"

Stan Zeff (USA) – "Lovin the soulful club mix"

Carlos Mena (USA): "Nice one!"

Jamie Thinnes (USA): "Another Soulful Gem from Jellybean Soul!"

Wil Milton (USA): "ALL The Mixes are Happening. I Will Rock"

Abicah Soul (USA): "I really like the pumping mix deeply"


CREDITS:
Produced by by DJ Pope
Written by Sam Cooke
Published by ABKCO Music (BMI)
Mixed, arranged and played by DJ Pope
Additional Keys by Ollie Wright
Remix by 95North
Vocals by Adrian Blue
Recorded at Pope Pump Studios - Baltimore,MD

Mastered by Emanuel Geller @ Salz Mastering - Cologne, Germany

Executive Producer: Jellybean Benitez

Visit us at our website: http://www.jellybeansoul.com

Facebook:
http://www.facebook.com/pages/New-York-NY/Jellybean-Soul/8133353042

Twitter:
http://twitter/jellybean_soul

Jellybean Soul TV:
http://www.youtube.com/jellybeansoul

MySpace Links:
http://www.myspace.com/jellybeansoul

For inquiries, please send email to:
info@jellybeanmusicgroup.com

(p) & © 2010 Fuego Media, L.L.C.