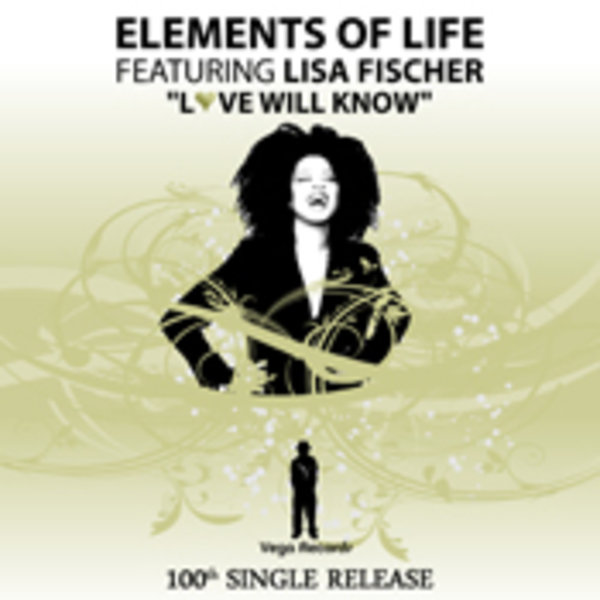 Love Will Know (Louie Vega Remix) - Elements of Life featuring Lisa FischerVega Records is celebrating a true mild stone as a label, we have reached our 100th release! We can not put into words what this means for us so we are expressing our joy, our thanks, and our pure excitement through Elements of Life featuring Lisa Fischer LOVE WILL KNOW (Louie Vega Remix).

In April of 2003 Vega Records launched its very first release of CERCA DE MI and its been a runaway success of non-stop, crowd pleasing, chart topping, dance music hits for the world to enjoy every since! In August of 2008 we experienced our greatest success to date with ELEMENTS OF LIFE feat. Lisa Fisher & Cindy Mizelle with Into My Life (You Brought The Sunshine), so to honor our landmark 100th release its only fitting that we release Louie Vega's Elements of Life featuring Lisa Fischer, LOVE WILL KNOW! With lyrics by none other than Blaze, LOVE WILL KNOW is guaranteed to move you and take your spirit to an elevated euphoric level! When these powerhouses of music come together something truly amazing happens as they proved in 2008 with Into My Life (You Brought The Sunshine).

The talents on this track are UNREAL! We have combined the forces of two Grammy award winners, Louie Vega & Lisa Fischer and the genuine lyrics of BLAZE to create an unstoppable musical force that represents the true meaning of love for music! Louie Vega brings a percussion driven track courtesy of Luisito Quintero, with a funky baseline to the world renown vocals and sweet melodies of Lisa Fischer to present the perfect balance of harmony and beats with LOVE WILL KNOW. Close your eyes, turn up the system, listen to the inspirational lyrics of BLAZE and feel LOVE WILL KNOW take over your soul and move you to the dance floor. This music breaks boundaries of genres, you don't need to be a die hard house head to love and appreciate the strength and spirit of Elements of Life & Lisa Fischer's LOVE WILL KNOW.

This is what sets VEGA RECORDS apart and showcases the power of artists dedicated to the integrity of great music! LOVE WILL KNOW makes this monumental moment that much greater for us! We thank you for joining us on our journey as a label and promise to keep creating music that speaks to the souls of dancers and djs across the world!

ELEMENTS OF LIFE FEATURING LISA FISCHER LOVE WILL KNOW
PUBLISHING INFO: LUIS F. VEGA (NICONANE MUSIC) BMI, KEVIN HEDGE & JOSH MILAN (MUSIC OF NIA SONGS) BMI
PRODUCED, ARRANGED & MIXED BY: LOUIE VEGA
LEAD VOCAL & BACKGROUNDS: LISA FISCHER
MIX & RECORDING ENGINEER: YAS INOUE
KEYBOARDS: JUNITO DAVILA & JOSH MILAN
BACKGROUND ARRANGEMENTS: LISA FISCHER, LOUIE VEGA, JOSH MILAN, KEVIN HEDGE
LIVE BASS: GENE PEREZ
TIMBALES, CONGAS, DJEMBE & PERCUSSION: LUISITO QUINTERO
DRUM PROGRAMMING: LOUIE VEGA & YAS INOUE
RECORDED & MIXED AT: DADDY'S WORKSHOP, NJ
MASTERED BY: HERB POWERS FOR PM ENTERTAINMENT

SPECIAL THANK YOU TO ANANE VEGA, NICO VEGA, LISA FISCHER, YAS INOUE, ROSIE VEGA!