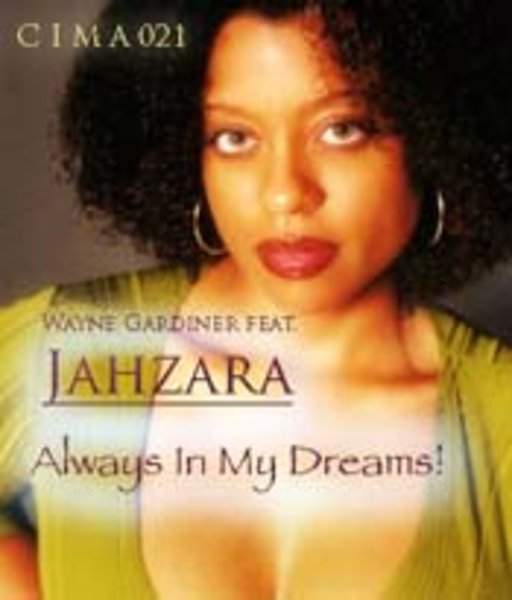 CIMA Recordings welcomes the talents of Jahzara!!CIMA Recordings welcomes the talents of Jahzara! Her musical success has taken her across continents on tours with such international recording artist as CeCe Rogers on the Nuphunk Project. She has also graced the stage with such prominent artists as Phoebe Snow, Eric Frampton, The British Rock Symphony, Fred Wesley, Macio Parker, Michael Hill. Jahzara's studio recordings can be found on such works as "Free Your Mind", BLAZE / Masters at Work remix, "Where Were You" - Strictly Rhythm Records featuring Barbara Tucker just to name a few.

Songstress "Jahzara" Janet Hall is back in the studio under the production of Wayne Gardiner with CIMA Recordings. Together, they bring you "Always In My Dreams", resulting in a heavy hittin' club jam. Stay on the look out as CIMA will be releasing more powerhouse jams with Jahzara!

Writing and Production:
All music written, produced & performed by: Wayne Gardiner
Lyrics written & performed by: Jahzara (Janet Hall)
Recorded and Mixed by Wayne Gardiner at Close Cut Studios - West Orange, NJ USA

Published by: CIMA Media - BMI

© 2010 CIMA Recordings, LLC

URL: http://www.cima-recordings.com

Licensing: info@cima-recordings.com

Global Feedback:
Quentin Harris (Strictly Rhythm, Defected/Us): I was sold when I heard the Celestial Vox. Not too deep, not too hard...just right!

Osunlade (Yoruba Rec., WYRB/Greece): Nice!

Will Reelsoul (Sole Channel Music/Us): Feeling the main mix and the hard dub!

Halo (City Deep Music/Us): Amazing project Mr Gardiner you have always been one of my favorite producers top quality Deep House Music..Congrats!

Samy aka Dj Morpheus (Radio Campus Brussels/Belgium): Excellent stuff! Deep and lovely just like the doctor orderd! Will play it on my weekly radio show here in Brussels. Cheers!
Mike Fossati (Spirit Of House/Switzerland): Gorgeous production full of luscious melodies and wonderful vocals.

Benji Candelario (Transitori Music/NYC): Hot tune!!

Jean Paul Francois & Ezio Centanni (Spiritual Blessings, SSradiouk, Motion Fm/Italy): What to say about this project! Amazing. Deep & Cool as we like. A lot of different versions so we have always something different to play. Once again Wayne surprises us with his cool style. Full support, charting and playing it a lot!

Greg Gauthier (DC club Paris, Kif Rec./France): Brilliant!!!

Phil Cheeseman (Dj Mag/Uk): Nice vibe, good dubs!

Groove Assassin (Defected, Nite Grooves, Code Red, Jellybean/UK): Slammin! Plenty of mixes to choose from WG on firrah with this tight package full support from me ..classy!

Robert Owens (Compost, Uk): Great track and vocal!

Igor Marijuan (Ibiza Sonica/Spain): Just great. the sounds that i reall love. Massive support in my radioshow at Ibiza Sonica!

Dj Tedd Patterson (Cielo, Vibalcast/NYC): VERY, very good!

Darry James (98.7 Kiss fm NYC/Us): Definitely gonna get some play!

Tony Humphries (Tony Rec./Us): Nice soulful song. The best mix is Celestial vox! We'll support.

Eddie Boom (Handzonradio/Us): Usual Wayne Gardiner straight upfront beats IN your face.
DEFinitely feelin this one!

Pirahnahead (Whasdat Music/Detroit): I Love it. I am gonna play the F*%K out of this Track!

Deli G (The Future Of House Radio Show/Uk): Really feeling this project. The Ambient Vox is HOT!

Michael Stukes (Mystic Vybes, WHCR 90,3 fm/NCY): MAN! These are some smoking mixes for the dance floor!

Clemens Neufeld (Giant Wheel/Austria): Been a fan of labelmate Wayne since his very first releases, he is one of the best!

Hippie Torrales (Cyberjamz/Us): Love the production and the song is real nice!

Danny Krivit (718 Sessions/Us): This is great!!!

Gene King (CKLN 88.1 fm Toronto/Canada):Nice to see Wayne Gardiner still doing his thing!

Lars Behrenroth (Deeper Shades Of House/Us): All about the celestial vox dub!
nice old school feel that kicks in the right areas!

Andre Harris (Sushi Samba/Chicago):Thanks for the sultry vibes!

Edground (Grooveland, 99 fm/Brazil):Very good production, I like Wayne's sound a lot!

Jay Tripwire (Fortune Sound Club/Us): Wayne is always on point. From day 1 to now he will always be one of your go to producers. The celestial vox dub is my pic,it is something along the likes of a classic Mood2Swing cut. Top shelf deep!!

Anthony Nicholson (CircularMotion, Miquifaye music/Chicago): Wayne Gardiner does it again. With some excellent vocals from Jahzara, always in my dreams is a real stunner. I cant even decide on which mix to play. Wayne did a fantastic job combining his classic signature sound with a cutting edge -futuristic vibe. Real heat from one of the real Masters!

Antonio Ocasio (Wepa!/Us): I'm feeling the HARD DUB. Can't wait to play it.

Henri Kohn (Conya, Clubstar Rec./Germany): Wooo wooo, I like. Actually all mixes! Will choose wisely according to what crowd I play. Thx!

Dj Pope (Poji Rec., Handzonradio.fm/Us): Celestial vox work good with my format, you got my support.

Mike Grant (Moods & Grooves/us): Thanks for including me! Always enjoy Wayne's production and this one doesn't disappoint!