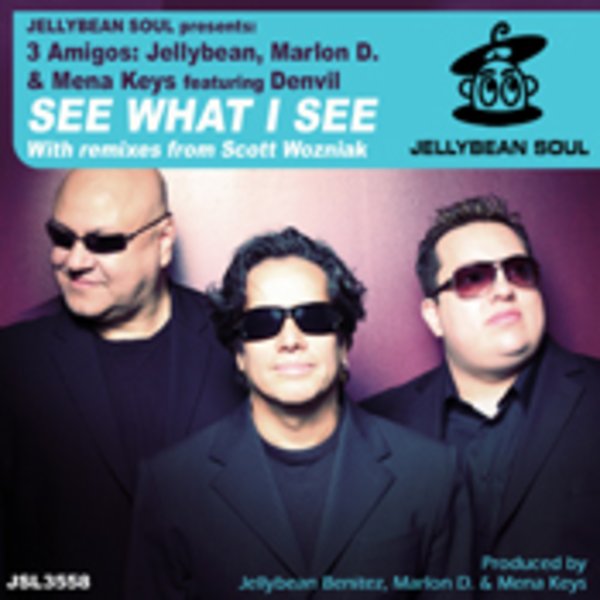 All new music from 3 Amigos and Denvil – See What I See (including remix from Scott Wozniak)Just when you thought that this production dream team could not get any deeper, they drop "See What I See" on you! An amazing package that combines the spiritual message of Denvil's lyrics with hard driving 3 Amigos magic. This package also features an absolutely incredible remix by Scott Wozniak that will get you right in the Summer mood!

About Denvil: Born in Texas, and raised in Houston and San Antonio, his love of music was sealed after hearing The Crusaders' Street Life. I can't recall the exact moment I heard this song, but I remember immediately feeling a deep connection to it. I made my dad play this album all the time and never got sick of hearing it. He began singing at a young age when a choir director asked him to sing a solo in church. He attributes this experience with giving him the confidence and interest to continue singing. While pursuing a Bachelor's degree in liberal arts at Carleton College, he continued to write and sing in a small jazz band. It was definitely through writing songs that he found a way to cope with his own experiences, and soon realized that this was a way to translate these experiences into something tangible. Even as a child I knew there was a story being told when I listened to music, and it's those stories that interest me to this day.

FEEDBACK:
Dino Michael (South Africa): "WOW!! What an awesome release!! Absolutely Kick Ass!! The 3 Amigos Club Mix does it for me!! Full support in the clubs and on my show!! Brilliant!!"

Jose Carretas (UK): "This is awesome!"

Kiko Navarro (Spain): "Nice vocal and superb Wozniak treatment."

Aaron Ross (UK): "Scott always delivers... original is hot too!"

Luis Radio (Italy): "Hotnesssssss....vocals are on point!!!! Both mixes are useful full support!"

Andy Ward (UK): "Scott's [mix] hits the spot for me."

Marlon D. (Columbia): "Hot to trot- Great vocal!"

Ralf GUM (Germany): "Nice groove and song. Thanks!"

Dr Bob Jones (UK): "This is sooooo good, both the 3Amigos mix and Scott Wozniak mix do the business- full floor with both. Glorious vocals from Denvil make this another must have from Jellybean Soul- THANK YOU SO MUCH!"

Hallex.M (France): "Thank you for your beautiful music! I love the Wozniak mix, perfect for this summer!!"

Abicahsoul (USA): "Great work"

CJ Mackintosh (UK): "Loving Scott's mix :)"

Parrish Wintersmith (USA): "I'm feeling the the messege and I love the Scott Woz mix. He put it down baby. I'm all over this!"

Sean McCabe (UK): "3 Amigos Club Mix is DOPE! Love the song."

Mark Stone (Switzerland): "Brilliant!! Very Strong Track!! Will play that, Scott in full Effect - Woaaaaa!!!"

Joey Silvero (UK): "Jellybean Soul are top of their game, this is no exception!"

StanZeff (USA): "Both mixes are great, I luv the track!!"

DJ Rork (France): "Nice release! Perfect for my summer set! Play & Chart!"

Ruben Toro (USA): "Dope!!!! I've been waiting for this one ever since I first heard it- looking foward to spinning it all summer long!"

Master Kev (USA): "Very nice production and killer remix from Scott Wozniak. Will definitely be supporting this."

DJ Michael Terzian (Canada): "Scott Wozniak remix is on point!!!!!"

Antonio Ocasio (USA): "I like what Scott did with this song. Very nice. Good job y'all!"

Fruto Mejia (Colombia): "Incredible! Wozniak Remix, really deep, hot drums, elegant voice of Denvil's, perfect for a sunset on my beach this summer."

Stephen Rigmaiden (USA): "Feelin the Woz Remix. Good Stuff."


CREDITS:
Produced by Marlon D., Mena Keys & Jellybean Benitez
Written by Marlon Duque, George Mena and John Benitez
Published by House of Fun Music, Inc. / My Innersoul Music, LLC (BMI) / My Soulmate Songs (ASCAP)
Recorded and mixed at Lovehouse Studios, NJ
Recording engineers: George Mena and Marlon D.
Lead Vocals: Denvil
Drums: Marlon D. & Jellybean
Keyboards: Mena Kays
Percussion: Jellybean & Marlon D.

Tracks 5-7 Remixed by Scott Wozniak @ Woz's Lab, Brooklyn, NY
Keyboards by Scott Wozniak

Photo by Louis Pickney

Mastered by Drew Lavyne @ a.l.l. Digital Studios, NY
Executive Producer: Jellybean Benitez

http://twitter.com/jellybean_soul
http://twitter.com/heyjellybean
http://www.jellybeanmusic.com
http://www.myspace.com/jellybeanbenitez
http://www.myspace.com/marlonduc
http://www.undergroundcollective.net
http://www.myspace.com/georgemena

For inquiries, please send email to:
info@jellybeanmusicgroup.com

(p) & © 2009 Fuego Media, L.L.C.