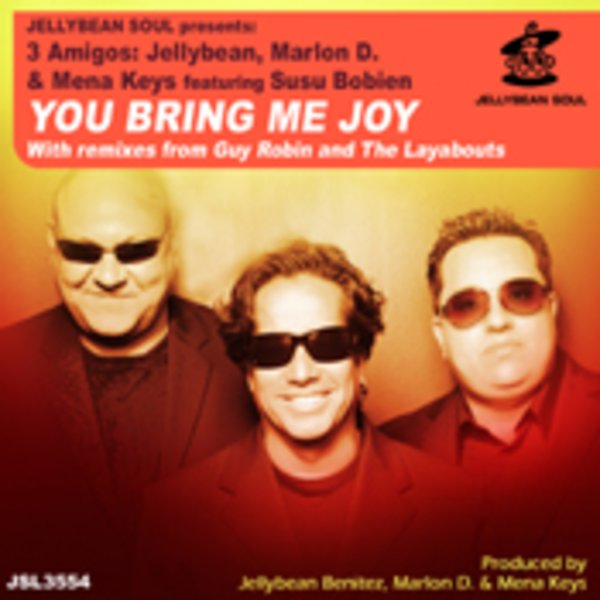 3 Amigos continue on their 'Adventure' with the new single "You Bring Me Joy"The amazing production trio 3 Amigos (aka Jellybean Benitez, Marlon D. and Mena Keys) had a huge year with the back to back hits "Opera House" and "We Are One (Love, Faith & Trust)". Now they kick off 2010 with "You Bring Me Joy", the third single from their highly anticipated full length album.

"You Bring Me Joy" features the vocal powerhouse and soulful house music legend, Susu Bobien. In addition to the super deep 3 Amigos mixes, the package also offers a very different vibe from a very talented rising star, UK based producer Guy Robin.

Guy Robin was exposed to jazz, disco and soul from a very early age, becoming a musician himself by the time he was eight. Now, at the tender age of 20, Guy Robin is already a seasoned professional whose music has been championed by some of the biggest names in the business. He has produced music for some of the biggest labels in the scene with releases on Defected, Soulfuric and MN2S to name just a few. Amongst his recent remix credits are Copyright's vocal anthem "I Pray" and the worldwide smash "Can't Get Enough" by Soulsearcher.

Also just added to this special package- new mixes from The Layabouts- a trio from the UK that has produced quite a number of big name records and have worked with artists such as Danism, Stephanie Mills, Colonel Abrams, DJ Spinna and many more. The Layabouts also have featured mixes on the current hit from 3 Amigos, We Are One, also available on Traxsource now!

FEEDBACK:
"Been killin' this for some time now....absolute stomper" - Dennis Ferrer

"Another great release from one of our favourite labels!! Cool version from 3 Amigos and Mr. Robin! Old Skoool! The Layabouts mix is Deeeepest ! Great support from us!" - Souldynamic

"Anyone who knows me also knows i'm a sucker for a good gospel vocal. Thanx Jellybean for droppin' this one." - Parrish Wintersmith

"Layabouts rock it, very classy, the Instrumental is really nice too." - Atjazz

"3 Amigo's mix! All the way baby! Reminds me of can you see the light. Energy to spare!!!!!!" - Sting International

"3 Amigos + Susu Bobien deliver another bomb! The Guy Robin mix is devastating any dancefloor…" - Tony Humphries

"Pure GEM! Can't pick the best mix as I will probably use em all! Dope" - Blacksoul

"WOW… Great Layabouts Mixes of this one. . .also the Guy Robin Mixes will make people happy on the dancefloors . . definitely in my case. . by the way. . .the vocals makes me crazy on this one…" - Dario D'attis

"Another amazing work from New York heads! Lovin all mixes!" – Rocco Rodamaal

"Continue the journey of 3 Amigos in the underground. I love the 3 Amigos remix- the drums- it's great and the vocals! Susu Bobien- a perfect combination for a great track." - Fruto Mejia

"Heavy business, always a great vocal from Susu Bobien, powerful and meaningful, love this" - Joey Silvero

"Good vocal track here" – Ralf GUM

"Dope mixes of that vocal tracks, I like it all three... Sounds like house music! Perfect for Miami soon, it smells good!" - Yass

"Lovely" – Henri Kohn

CREDITS:
Produced by Marlon D., Mena Keys & Jellybean Benitez
Written by Marlon Duque, George Mena and John Benitez
Published by House of Fun Music, Inc. / My Innersoul Music, LLC (BMI) / My Soulmate Songs (ASCAP)
Recorded and mixed at Lovehouse Studios, NJ
Recording engineers: George Mena and Marlon D.
Lead Vocals: Susu Bobien
Drums: Marlon D. & Jellybean
Keyboards: Mena Kays
Percussion: Jellybean & Marlon D.
Recording & Mix Engineer: George Mena
Recorded and Mixed at Lovehouse Studios, NJ

Guy Robin Remix:
Remixed, Produced, Arranged, & Engineered by Guy Robin
All Instruments by Guy Robin
Drums & Percussion by Guy Robin
Mixed by Guy Robin

The Layabouts Remix:
Remixed / Keys / Engineered & Mixed by The Layabouts (Leigh Darlow & Alex Paschali) @ Earthworks Studios, Barnet, North London
Mastered by David Brant

Photo by Louis Pinckney

Mastered by Emanuel Geller @ Salz Mastering, Cologne

Executive Producer: Jellybean Benitez

http://twitter.com/jellybean_soul
http://twitter.com/heyjellybean
http://www.jellybeanmusic.com
http://www.myspace.com/jellybeanbenitez
http://www.myspace.com/marlonduc
http://www.undergroundcollective.net
http://www.myspace.com/georgemena

Jellybean Soul TV:
http://www.youtube.com/jellybeansoul

For inquiries, please send email to:
info@jellybeanmusicgroup.com

(p) & © 2009 Fuego Media, L.L.C.