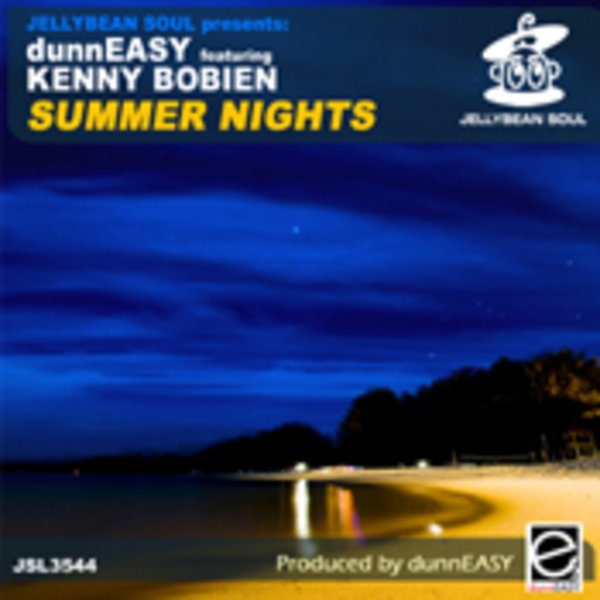 dunnEASY and Kenny Bobien set the mood for Summer with their latest release "Summer Nights"

Ed Dunn (3 Degrees) and Ethan White (Tortured Soul) aka mega-production team dunnEASY have created a lush and sexy masterpiece just in time for the steamy nights ahead. Teaming with house legend Kenny Bobien, dunnEASY showcases a completely new side of Kenny's signature vocal, utilizing the lower range of his voice, and the final product is rich and beautiful, providing reminiscent hints of classic Marvin Gaye. Added to this package are remixes from Jovonn (who recently held the #1 spot on the Traxsource album chart with Blaque House), Hallex.M and Alex Dimitri. A little something different from each of the mixes, but every mix is sexy and sultry and sure to have you workin up a sweat, just like those hot Summer Nights!

FEEDBACK:
"Lovin it the melody and Kenny's vibe just takes over this record! Definitely a deep soulful sexy song. This is going in my crates to be played on my radio show 98.7 KISS FM and at the Temple Movement parties!!!!" - Ruben Latin Bull Toro (Temple / 98.7 KISS FM)

"HOT HOT HOT! Summer has now made it! Amazing vocal from K.B.!" - Jamie Thinnes (SSRadio)

"Good vocal. Good variety of mixes. Hard to chose a favourite. Like all..." - Ralf GUM (GOGO Music, Germany)

"Beautiful. Love all the peeps in this one. Thanks." - Jeannie Hopper (WBAI)

"Wow what a smooth song! Sweet summer soul just as we like it and then some... Full support on this. Many thanks." - Dr Bob Jones (Samurai FM, UK)

"Nice package. I really like the dunnEASY and Hallex.M mix" - Jihad Muhammad (Movement Soul)

"Very nice!!! All mixes are great , hard to choose!!!" - Greg Gauthier (Dance Culture, Paris)

"Nice tune. I am also feeling the Alex Dimitri South Soul remix. Good job Alex & as always good job Ed and Ethan." - DJ Oji (www.handzonradio.fm)

"Very nice, also dig Jovonn's mix. Thx" - Henri Kohn (Ibiza Global Radio)

"Great tune. Probably the best one out for the summer for Jellybean Soul so far." - Hippie Torrales (cyberjamz.com)

"Lovin The Mixes, dunnEASY hits it on the money with the talented Kenny Bobien…" - Franke Estevez (Fuzion Records)

CREDITS:
Executive Producer: Jellybean Benitez

Produced by Edmund Dunn and Ethan White
Written by Kenneth Bobien, Edmund Dunn, and Ethan White
Published by Off The Top Music,/DUNNEASY Publishing / EazyBiz / My Soulmate Songs, L.L.C. (ASCAP)
Drum Programming: Ed Dunn & Ethan White
Keyboards: Ethan White
Mixed by Ethan White

Hallex.M United Mix: Remixed by Hallex.M for United Music Records at Calle Nueve Studio, Bordeaux/France
Keys by Stephane Lopez

Jovonn Club Mix: Remixed and produced by Jovonn for Jovonn Entertainment.

Alex Dimitri South Soul Remix: Remix Produced, arranged and mixed By Alex Dimitri South Soul
for South Soul Element productions
Recorded and Mixed South Soul Studio Brindisi - Italy

Mastered by Drew Lavyne at a.l.l. Digital, NYC

Visit us at our website: http://www.jellybeanmusic.com

Facebook:
http://www.facebook.com/pages/New-York-NY/Jellybean-Soul/8133353042

Twitter:
http://twitter/jellybean_soul

MySpace Links:
http://www.myspace.com/jellybeanbenitez
http://www.myspace.com/jellybeansoul
http://www.myspace.com/dunneasy

For inquiries, please send email to:
info@jellybeanmusicgroup.com

(p) & © 2008 Fuego Media, L.L.C.