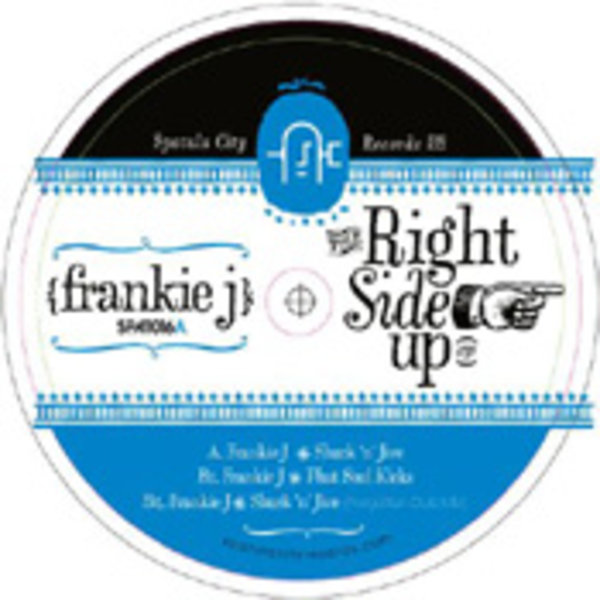 Frankie J's first solo record since his departure from The Sound Republic proves to be a scorcher. It's everything you loved about TSR tunes plus a fresh new stance on dance!

The Right Side Up EP is the rst solo record release from Frankie J since his departure from the famed Sound Republic duo that Spatula City Records knows so well. What you can expect is all the flavorings of the style you know so well but will leave your breath with long lasting freshness. On the A side we have Shuck N Jive, which is a super bouncy throwback to the classic ghetto house sound that keep asses in the air and feet working. This is a really fun track with a couple classic jive talkin samples that will put a huge smile on your face. You will know once you hear this tune, but don't try to understand it.
The flip side burns with a tasty new school jacker called Phat Soul Kicks. A nicely crushed rhodes over solid slammin beats with a woofer wompin sub bassline adds up to a sound that sits in a sub-class of phat all its own. Phat Soul Kicks totes some smooth Buttery samples from the early 90's hip hop era which will keep your head bobbin and your back packing. Last but not least is the Shuck N Jive (Forgotten Dub) which was a tune produced right before the TSR era which sat on the shelf and collected dust these past years. FInally this techy piece will see the wax of day and pronounce
bounce on that ass! For those of you who appreciate good fun no qualms jackin house....this record is for you. For those of you who don't....this records is also for you and ya momma n dem.