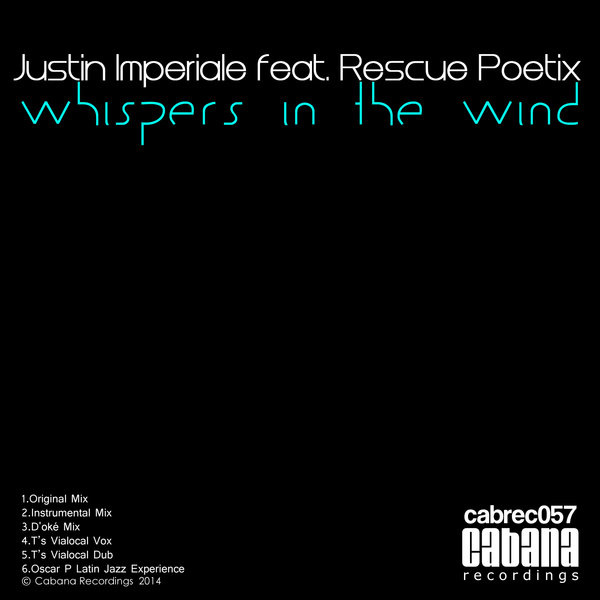 Justin Imperiale feat. Rescue Poetix - Whispers In The Wind (Cabana Recordings)

Remixes by D'oke', Vialocal, & Oscar P

"When we provided feedback to the label earlier today, all we said was "Quite simply a masterpiece..." Gentle yet infectious percussive rhythms, amazing Spanish spoken word poetry by Rescue Poetix and a masterly orchestration including sublime jazzy keys and lovely guitars are the ingredients of this paramount sun drenched latin/jazz infused production by Justin Imperiale entitled "Whispers in the wind". D'oke, Vialocal and Oscar P are the chosen ones to add their magic touch to the song, making it next to impossible to pick a favorite version (please note that on the Vialocal version the lyrics are in English). As said at the beginning, a masterpiece..." (Michael Fossati - Spirit Of House)

: : Credits : :
Original Mix: Written & Produced by Justin Imperiale
Vocals & Lyrics Written by Susan Justiniano
Acoustic Guitar & Bass Guitar by Ian Fisher
D'oke' Mix: Remixed & Produced by Ruben Hernandez
Vialocal Vox & Dub: Remixed & Produced by Toto Chiavetta & Leonardo Chevy (Vialocal)
Oscar P Latin Jazz Experience: Remixed & Produced by Oscar P
Executive Producer / A&R Justin Imperiale
Cabana Recordings 2014
www.cabanarecordings.com


: : : FEEDBACK : : :
Danny Krivit - Nice :)
Ian Friday - Sexy vocal
Carlos Mena - Nice
Vinny Da Vinci - Wicked!!!
Zepherin Saint - Just in time for some summer fun in Miami.. will rock the original!
Max Pela - another amazing release from cabana with a mix for all occasion... really
loving the Vialocal remix
Denz Devarez - Another killer package!! love it man!!!
Mr. V - Oscars Mix for me
Dj Minx - Every mix is on!
Trinidadian Deep - Every single mix is wonderful
Joonya T - Wooooo Justin, This is a HOT PACKAGE! For me, it's gotta be (T's Vialocal Vox) rocking this one on #BackCornerRadio"
Cristian V. -Very nice arrangements full support...
Matt Langrish-Smith - "This one's gonna be a hit at WMC for sure, get the mojitos on order! Great to see Rescue P doing something different."
Craig Stewart - Beautiful dance music, love it
Jose Marquez - Some more deep & tropical heat from Cabana! Looking forward to
rocking these, thanks
Ed Ground - Loving this. Full support. Great song.
Dom Navarra - An absolutely beautiful production ! All mixes are wonderful, full support !!
Aluku Rebels - Dope ,Dope Dope stuff Justin, My fav has to be the T's Vialocal vox,great energy and techy deep vibes but the pack is on point .Love it and will support all mixes
K Civ - Excellent Package! Full Support!
Mauritzio - C'est Chic :)
Antonello Coghe - FEELING ALL TRACKS!! GREAT EP! FULL SUPPORT FROM NULU FAM!
Dj Pope - Nice package bro love the grooves
Shun Tyger - Oh Yes !!!! Fantastic on Cabana !!!! Full support for your voice Rescue Poetix !!!! It's massive all versions are Full power
Abicah Sole - Love it!
Andy Compton - I don't normally give 10/10, but this is fantastic!!!! big love!!!
Hippie Torrales - Great package of mixes and Rescue on point.
Michael Fossati - Quite simply a masterpiece...
Dino Michael - Rocking!! Love the D'oke Mix! Full support! Thanks Justin!
Stan Zeff - Great package!
Alan O Malley - Loving the 'Original' great work by Justin will be playlisting on the show!!