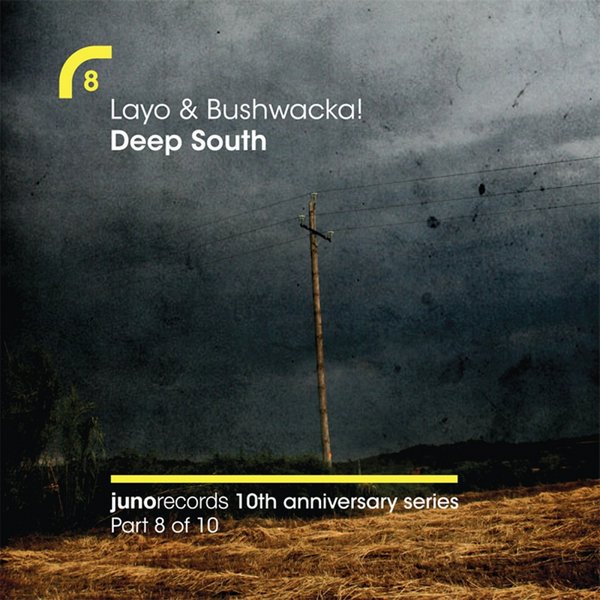 Deep South (Remixes)
Juno
JUNO8D | 2010-01-01
Layo & Bushwacka! comprise of Matthew 'Bushwacka' B, a former member of the infamous Rat Pack, and Layo Paskin, a North Londoner immersed in the acid house scene. They met through Mr C whilst Matthew was working at his studio, and by the mid 90s the two had started writing music together. By 1999 they'd already composed their debut album, 'Low Life', released on End Recordings. The album announced the arrival of the duo as a force in electronic music, with a record that brought together electro, house and breakbeat fused with blues, dub and downtempo, all underpinned and informed by their collective experience of underground culture. One of the standout tracks of this was "Deep South". With its vocal samples, jazzy trumpet solo, luscious, techy instrumentation and irresistible dance groove, "Deep South" was described as the song that Moby tried and failed to create for his album Play.

Picking up on Layo & Bushwacka's early acid house influences, Edinburgh-based Linkwood Family & House of Traps used a lot of tape and silver boxes to achieve an authentic Chicago acid trax sound. Keeping Bessie Smith's sample from the original they have created a hypnotic, jacking but contemporary acid work out on their Firecracker remix and Firecracker dub.

Danish breakbeat artist Badboe provides the second remix package, with an irresistibly funky dub on the a-side and a rolling, percussion-heavy remix on the flip. Badboe has developed a style that has clear echoes of 60s and 70s funk yet still fits seamlessly into the modern musical landscape. This man has dipped his toe in almost any genre you care to name - from house to trance; hardcore to trip-hop. He eventually came to conclusion that funky breakbeat is what he does best, and, based on this evidence, he's made a great decision.