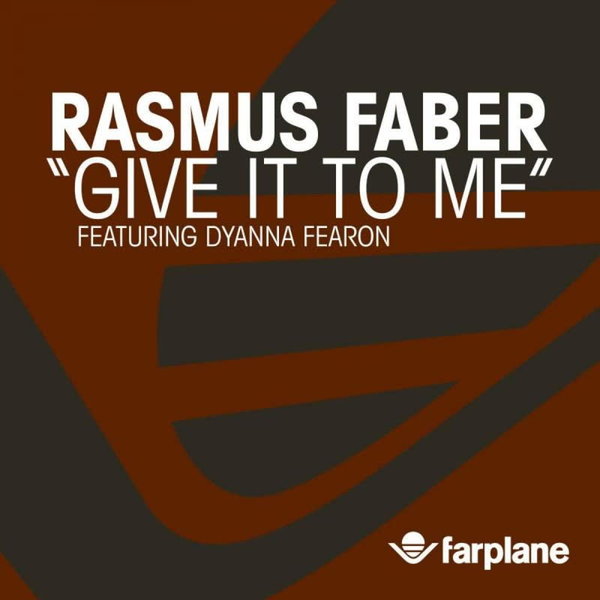 Give It To Me (feat. Dyanna Fearon) (Incl. Spiritchaser & Wamdue Project Remixes)
Farplane
FP013D | 2009-02-23
February 23rd marks the release of 'Give It To Me' featuring Dyanna Fearon, the second single to be taken from Rasmus Faber's forthcoming album 'Where We Belong' – a sublime collection of melodic dance, edged with deep-house and upfront pop.

The Extended 12" mix of 'Give It To Me' rumbles with low-slung funk, before erupting into a full-blown hedonistic disco battle-cry from guest vocalist Fearon, an accomplished singer/songwriter fresh from the recent Reel People album.

Rasmus' own RaFa Smooth Mix is a magical re-rub with sun-flecked synths and ethereal whispers, meanwhile the RaFa Dub is stripped back, trailing industrial synths and a squelchy bass-line across soulful vocals. The Wamdue Project Mix is a balmy affair, stained with muted space-age howls, whilst the Spiritchaser Remix fizzes over with bubbling synths, moody bass, laser-gun screams and glistening vocals.

Biography

Rasmus Faber started playing the piano at 7, and, receiving his first Atari computer at the age of 11, began to write and arrange his own music. "I was listening to jazz, hip-hop, funk and soul music," he says, "but was also inspired by the kind of stuff 11 year olds are into!"
At 20, Rasmus discovered his real musical passion: house music. "I suddenly realised that here was a genre that contained so many of my influences." Rasmus set to work on his debut album, 'Never Felt So Fly,' which captured hearts when released on UK label Black Vinyl in 2002.

A few years being managed by Defected Records head chief Simon Dunmore taught Rasmus about the business and led to him remixing prominent artists such as Junior Jack, Kings of Tomorrow and Dubtribe Soundsystem. Soon after, he started Farplane Records, whose first release in 2003 was 'Ever After,' followed by equally successful releases like 'Divided/United' and the Axwell remixed 'Get Over Here.'

Rasmus was now a major player, with Farplane Records becoming an acclaimed outlet for quality house. His latest album, 'Where We Belong,' is a personal career highlight for Rasmus, despite huge success touring the world, including sell-out shows everywhere from Tokyo to Bangkok. "I do DJ gigs with a keyboard, so there's piano playing in my sets," he says, "which is a cool contrast, especially when they get tougher musically."

Next up? 'Where We Belong', the live show: "Making house music live is tricky," he concludes, "it's easy to fall into the jazz funk trap. On the other hand, make it too clubby, and you're right back at the DJ set. It's a matter of balance: I can't wait…"

Rasmus is remixing, and getting remixed by, Jerome Isma-Ae, Danism, Karizma, Hideo Kobayashi, Tiger Stripes, Stimming, Alf Tumble, Spiritchaser and Ananda Project Kaskade, Lovebirds, Wamdue Project, Richard Earnshaw: the list goes on and on.

Whilst still only in his 20s, it's yet more proof that Rasmus is in high demand and at the peak of his game.