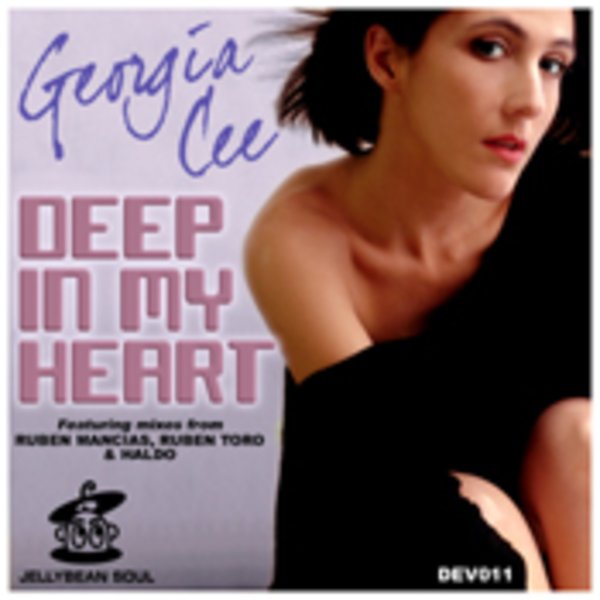 Deep In My Heart (Incl. Ruben Mancias, Ruben Toro & Haldo Mixes)
Jellybean Soul
DEV011 | 2008-10-29
Italian artist Georgia Cee debuts on Devotion Records with "Deep In My Heart"

The daughter of an Italian night club owner, Georgia Cee was practically raised by dance music. She began singing at the age of 6, began studying piano at 9 and soon after she was writing and performing her R&B, classic soul and dance songs all over Italy.

In 1998 she was signed to Columbia Records in Italy and in 2001 she started to work with DJ's as a singer and songwriter. Some of her collaborations include "Over and Over" produced by Luis Radio, "Rendez Vous" produced by Yellow Orange, and more recently "Say Yes" produced by Quentin Harris and featured on his album "No Politics".

"Deep In My Heart" is Georgia Cee's first release on Devotion and features mixes from Ruben Mancias, Ruben Toro, and Italian producer Haldo. This single offers a wide variety to choose from, all with a soulful vibe and driven by Georgia's powerful vocals and lyrics.

Written by Ruben Toro, Ruben Mancias, Georgia Carpanzano
Published by My Soulmate Songs, LLC (ASCAP)

Ruben Mancias Credits:
All Mixes Produced and Arranged by Ruben Mancias
Emanuel Chulo Gatewood bass on Classic House Mix
Billy Spaceman Patterson guitar on Classic House Mix
Tiger Wilson strings on Classic House Mix
Mixed by George Mena

Ruben Toro Credits:
Produced & mixed by Ruben Toro
Drums programmed by Ruben Toro
Keys by Tiger
WWW.DJRUBENTORO.COM

Haldo Credits:
Remixed by Haldo
Recorded @ Proceedrecords Studio, Rome Italy
Arranged And Performed By Haldo

Executive Producer: Eric Baca & Jellybean Benitez

Distributed by Jellybean Soul http://www.jellybeanmusic.com

http://www.myspace.com/jellybeansoul
http://www.myspace.com/devotionsf
http://www.myspace.com/georgiaceemusic

For inquiries, please send email to:
info@jellybeanmusicgroup.com

(p) & © 2008 Fuego Media, L.L.C.