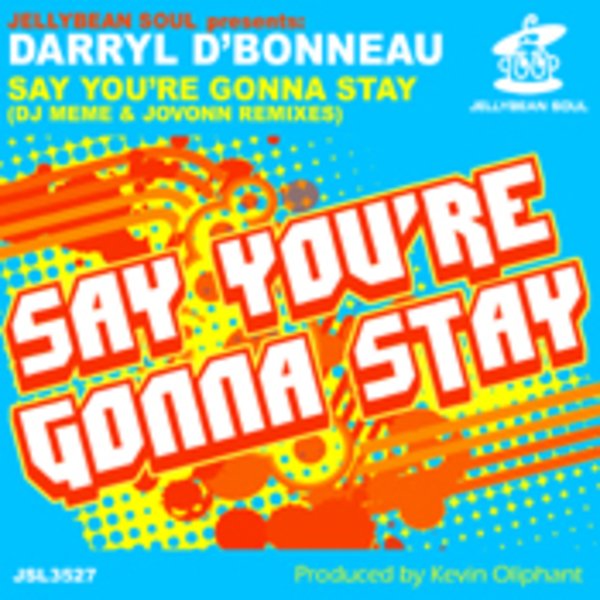 Fresh new remixes from DJ Meme and Jovonn on Darryl D'Bonneau hit "Say You're Gonna Stay"

Two amazing producers each bring their own style and breathe new life into Darryl's dance floor success, "Say You're Gonna Stay". The first is DJ Meme, a native of Rio de Janeiro, who is best known as Brazil's top House DJ and most critically acclaimed and successful remixer/producer. The other remix comes from Jovonn, who had recent success with another Jellybean Soul remix "Fly Away" by Eddie Stockley. Once again, Jovonn does not disappoint, bringing his signature hard kicking sound that has put him on the house music map.

AND COMING SOON…
Darryl D'Bonneau - Remixed, Reworked & Reimagined: All of your favorite songs from the unique vocalist featuring remixes by masters such as Scott Wozniak, Jon Cutler, DJ Meme and many others… coming soon to a digital store near you…

Produced by Kevin Oliphant
Written by James Labirt, Larry Labirt, Kevin Oliphant & Darryl D'Bonneau
Published by House Of Fun Music, Inc. (BMI)/ Lost In Music, Inc. (ASCAP)

Tracks 1 & 3 Remixed by DJ Meme Open House Productions, Inc.
Piano - Hiroshi Mizutani
Guitar - Fernando Vidal
Keyboards, Bass , Drums and percussion: DJ Meme

Tracks 2 & 4 Remixed by Remixed by Jovonn for Baseroom Entertainment
Mastered by James Cruz @ Trutone

Executive Producer: Jellybean Benitez

http://www.jellybeanmusic.com
http://www.myspace.com/jellybeanbenitez
http://www.myspace.com/jellybeansoul
For inquiries, please send email to:
info@jellybeanmusicgroup.com

(p) & © 2008 Fuego Media, L.L.C.