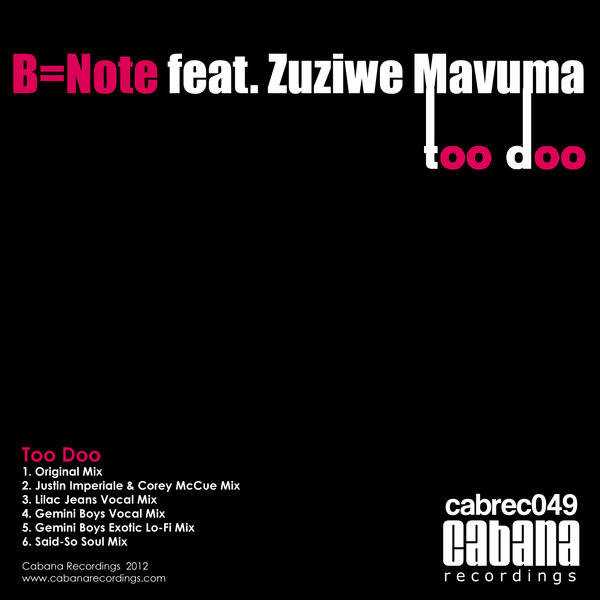 B=Note feat. Zuziwe Mavuma - Too Doo (Cabana Recordings)

Cabana Recordings is back with the phenomenal "Too Doo" by Bonolo 'B=Note' Mogotsi, a wonderful soulful production featuring outstanding sultry vocals by Zuziwe Mavuma and sublime keys over deep'n'smooth afrotastic rhythms - in other words, this is a timeless jewel guaranteed to send shivers down your spine... But this is not all as the release complete with a stellar selection of deep/soulful/afrocentric remixes from the likes of Justin Imperiale & Corey McCue, Lilac Jeans, Gemini Boys and Said So, giving you plenty of options to work the floor and send the crowd into a frenzy. Highly recommended, by no means to be missed. ~Mike Fossati (Spirit of House)

Cabana Recordings 2012
www.cabanarecordings.com

::: FEEDBACK :::

Danny Krivit : "Nice one, Original Mix"

Mr. V : "Original Mix is the One for me!!!"

Oscar P : "FIRE! - Original Mix"

Ray Vazquez : "NICE VIBE, Lilac Jeans Mix"

Vinny Da Vinci : "ALL MIXES DO IT FOR ME... WILL DEFINITELY SUPPORT!!!!"

Ian Friday : "Solid package of music!! Justin Imperiale & Corey McCue Mix"

Stan Zeff :"Great mixes on this track, but Justin's mix has me spinning."

Terry Hunter : "Really feeling the Justin Imperiale & Corey McCue Mix."

Trinidadian Deep : "This has to be one of my top 10 for the year 2012! Original Mix."

Abicah Sole : "Deepness, Justin Imperiale & Corey McCue Mix"

Antonio Ocasio : "Very Nice! Said So Soul Mix."

Carlos Mena : "Sexy Groove! Lilac Jeans Mix"

Dino Michael : "This is Incredible!!! Cannot choose a mix out of this package! Every mix is rocking!! Can't wait to play this on my shows and in the clubs!"

Craig Stewart : "Lilac Jeans jam is beautiful, very tasty for the dance floor Craig Stewart Montana & Stewart Universe Media & DCSTrax."

Antonello Coghe : : "OlA Cabana!! Original and Justin Imperiale & Corey McCue Mix."

Denz QH RADIO : "Where shall I start? Love that original which I think Ill play out but the Justin Imperiale and Corey McCue Mix is all bliss too!! Said So Soul massive job done keeping it deep!! Dope pack!

Dj L (ViaLocal) : "Thanks for sharing me :-) I like "Justin Imperiale & Corey McCue Mix"... Great work as usually!"

Dom Navarra : "Sexy vox, smooth as silk production, in my bag for sure ! Justin & Corey's Mix hits the spot!"

Ed Ground : "Sensacional. This another great release!!! Loving all mixes."

Hallex M : "Beautiful remix from Justin Imperiale & Corey McCue!! full support!"

Hippie Torrales : "Great tune & performance. JI & CM mix is rockin this tune."

Jose Marquez : "Very nice solid and deep package of music here from Cabana. Looking forward to dropping these in the late night hour!"

Kai Alce : "All the mixes are HOT!"

Louis Benedetti : "Nice package, Justin Imperiale & Corey McCue Mix. Thanks!!"

Mauritzio : "Im in feel For Original and Justin Mix ! Suppport!"

Michael Fossati : "A phenomenal timeless production featuring amazing vocals, coming complete with a stellar remix package making it next to impossible to choose a favorite version..."

Mikki Afflick : "I am feeling this one!! Sexy and Deep. All the mixes are amazing. I will support to the fullest. gemini Boys Exotic Lo-Fi Mix has me open..."

Shun Tyger : "Sweet & Wonderful EP once again on Cabana !!!! Justin Imperiale & Corey McCue Mix is ideal for my next RELAX YOU !!"