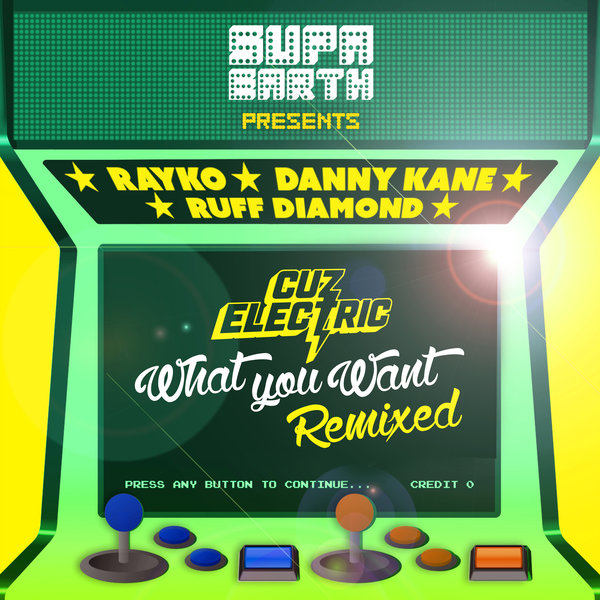 SupaEarth Records are back with a long-awaited Remixed EP edition of one of their early releases "What You Want" by Cuz Electric, the highly talented duo consisting of producer Richard Hall and Vocalist / Instrumentalist Megan Jones, who have gained massive support for their releases over the last few years on coveted labels such as Midnight Riot, Masterworks, Paper Recordings and Rare Wiri, amongst others.

Kicking off proceedings is the one and only Rayko, Rare Wiri head honcho, and legendary much-loved DJ and producer in the Nu Disco and Electronic scene from Madrid, Spain, who takes the vibrant downtempo "Brenda" to a whole new level of Electronic beauty with his 'Cosmic Club' remix. Laden with his signature heavy arpeggiated synth Bass and harmonically rich synth leads, Rayko's take on this is pure Balearic bliss, with fantastic energy and sonic colours tuned to perfection.

Next up, fresh from a string of stunning releases on Midnight Riot and making a very welcome debut on the SupaEarth imprint is heavy hitting Boogie producer Danny Kane, who steers "Set You Free" into slightly deeper territories. With a heavy Bass driven and punch packing groove, hypnotic percussion, 80s synth stabs and intense tremolo movement in the electric piano, this really sets off the delay enriched vocals of Megan Jones who shines on this cut with Classic 90s 'esque Diva authority and tone.

Rounding things up, SupaEarth label boss Ruff Diamond takes the helm, and gets his mirror tiled guitar "The Heatmaker" out to bring the party into town on his remix of title track "What You Want". Anchored with a weighty Moog Synth bassline and bouncing Boogie backbeat, Ruff Diamond makes good use of the catchy vocal melodies, sprinkling in some cosmic synths and keys for good measure to make a feelgood banger for the party people, his "Heatmaker Guitar Dub" version also providing an extra stripped-down dose of six string Funk action and lush Disco claps.

Play it LOUD and enjoy!

Written by Richard Hall, Megan Jones.
Vocals by Megan Jones
Produced by Cuz Electric
EP Cover Artwork by Lempo

"Brenda" (Rayko Cosmic Club Remix) – remix produced by Rayko, mastered by K-Effect
"Set Yourself Free" (Danny Kane remix) – remix produced by Danny Kane, mastered by Ruff Diamond.
"What You Want" (Ruff Diamond remix) – remix produced, mixed, and mastered by Ruff Diamond.