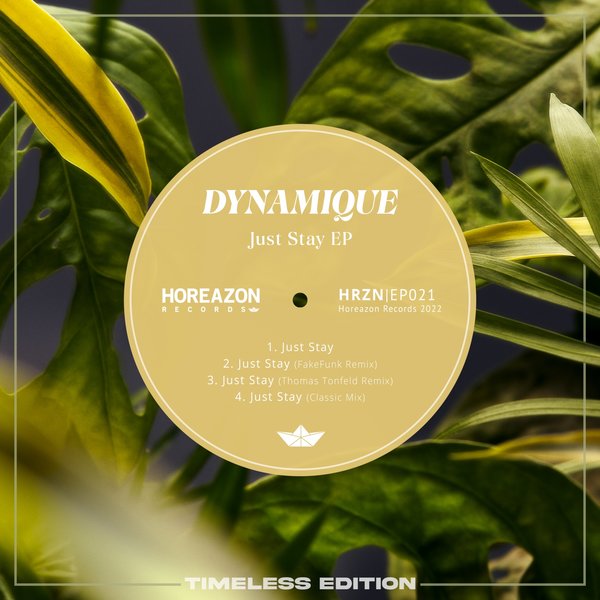 3616847698408 | 2022-06-10
With the artist Dynamique we have decided to release the amazing Just Stay [EP] that released in 2015... This is a new and timeless edition, it has been created to remember all the time and evolution since that period.

But for better understanding, the following words are from dynamique himself :

The 'Timeless Edition' of Just Stay was a passion project of mine to see if it was possible to re-capture nostalgia. When I originally wrote the track in 2015, I was quite new to music production, and to disco & French touch in general.

Just Stay was the first track I had fully produced where I felt like I had really imparted myself into the music. I can listen to that song and always say, "that song represents who I am".

The original was very much a lightning in the bottle moment. At the time, I was still learning song structure, sound design, and composition. I remember being in the moment, and writing this song in just a few hours. The vocals were recorded on a cheap 10$ headset, and I was using speakers built into the computer at the time.

I've recomposed the entire song from scratch using a lot of analog synths such as the CS-80 and Jupiter, and re-processed the original vocals in a modern vocoder. I wanted to capture the same feelings that the song made me feel back then, but lace in all of the experience, knowledge, and growth I have gone through in the last 7 years.

I was extremely lucky to have 3 amazing remixes alongside the original release, and I am continuously lucky to have another set of wonderful remixes on the 'Timeless Edition'. FakeFunk & Thomas Tonfeld are both artists I have grown to know over the last few years and couldn't think of anyone better to contribute to this EP with their unique styles.