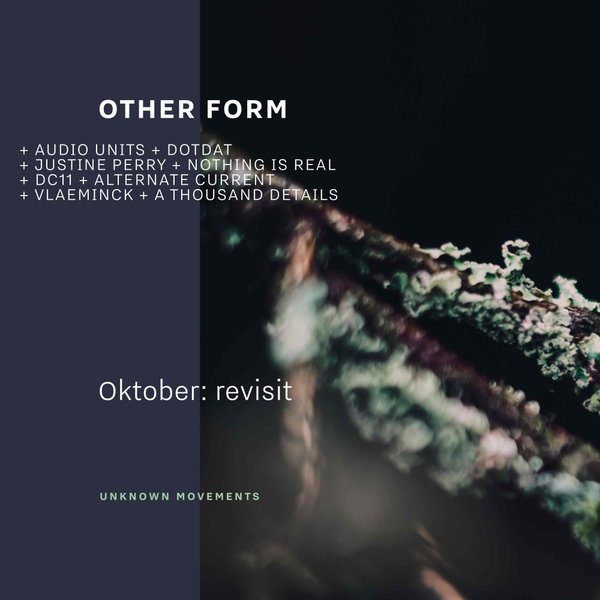 Arriving five years to the day since the release of his debut 12', Other Form revisits that EP's standout track Oktober and enlists the help of collaborators new and old for over 50 minutes of fresh interpretations - each an essential cut in its own right.

Other Form's titular revisit of Oktober subtly improves the track with a punchier mixdown and a more 'floor-ready tempo - an exercise in refinement from a producer who's spent five years evolving a sound that's earned praise from the likes of Paula Temple, Amotik, and Charlotte de Witte.

Now, the remixes begin: first, with a tom-heavy collaboration between Audio Units (Dynamic Reflection, Newrhythmic) and Dotdat (Symbolism, Room Trax), label heads of Observant and figureheads of Bangalore's techno scene, before giving way to the first ever remix from Lille-born, Berlin-based Justine Perry (Postdynamic, Intra). Next, we have a deep and dubbed-out version from Sardinia-born, Berlin-based Nothing is Real (Bahn, Methodical), followed by a heavily swung offering from Paris' dc11 (Data Roaming, Cosmic Wave). Then comes a UK bass vibe courtesy of London's Alternate Current (re:st, Diffuse Reality), whose remix sits perfectly alongside his recent explorations with Other Form. Granada's Vlaeminck (Rhod, Soptik) takes the track into post-apocalyptic territory before Porto's A Thousand Details (Edit Select, MORD) closes the release with not one but two brutal reinterpretations.