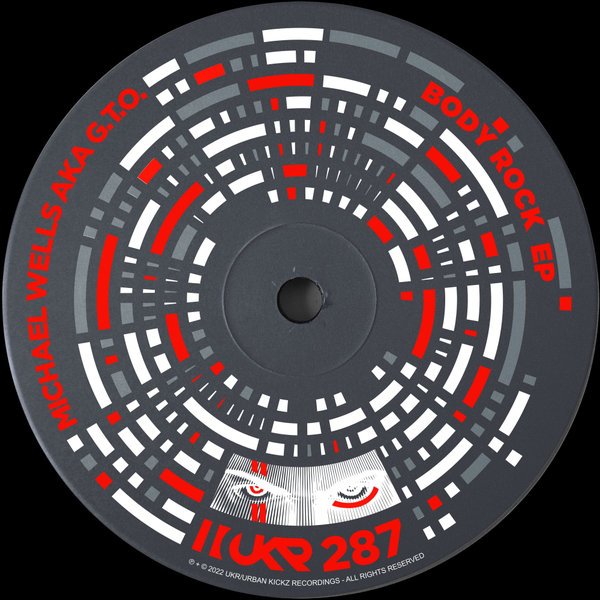 Michael Wells a.k.a. G.T.O. is back at UKR and he means business. 'Body Rock' EP comes at you with an intensityand vibe that's out of this world. Powerful, enigmatic, exceptional, fierce...all words that can describe this producer'stracks. This man has paid his dues and is extremely careful how, when, and where he releases his exclusive material. As they say in the musicbusiness, 'when you've got it you got it'...well this man has it no doubt, and this four-tracker is a testament to his place in the techno world not only in the US, but worldwide as well. He's on point and this is all reflected clear as day in his rawand uncut tracks.

Michael Wells a.k.a. G.T.O. starts off this EP with pure fire. 'Body Rock' unravels itself with a catchy vocal sample and flaunts attitude as it weaves througha percussive battle march with tribal vibes and dramatic synth toughness. This is an all out attack on the senses that will have you jacking so hard you won't know what hit you.
Next up is 'Kick It Together', a raw synth stab stormer that pounds the pavement with a scorching melody and heavy drum work. Menacing vibes are abundant as Michael Wells a.k.a. G.T.O. takes complete control of your mind and body with this burner, scorching the floor with tense sounds, and unforgiving percussive energy. A warehouse weapon no doubt, Mr. Wells takes aim and fires on all cylinders here leaving the crowd wet with sweat and shattered by low frequencies.
Continuing this formidable release is another club stormer titled 'Motorcorp', a secret weapon that's sure to be a warehouse anthem for many years to come. Dark vibes, pumping energy, mind-blowing 16th note edits and sophisticated tone layering will leave you mesmerized and hyped. This is absolutelyoutstanding production from one of the sharpest minds inthis genre. Jaw dropping production at its best! Wrapping up this 'Body Rock' EP is another tom-fueled belter titled 'Snaker', a deep synth-jacker that powers its way into the late night hours, giving the listener a true 4 AM experience, where one can settle into a groove while the colors and textures of the track wash the crowd with cooling and an introspective luster.

Michael Wells a.k.a. G.T.O. has returned to UKR with some of his most remarkable material to-date and taken over our ears by storm, getting us in the zone and letting us know who truly has a techno soul.