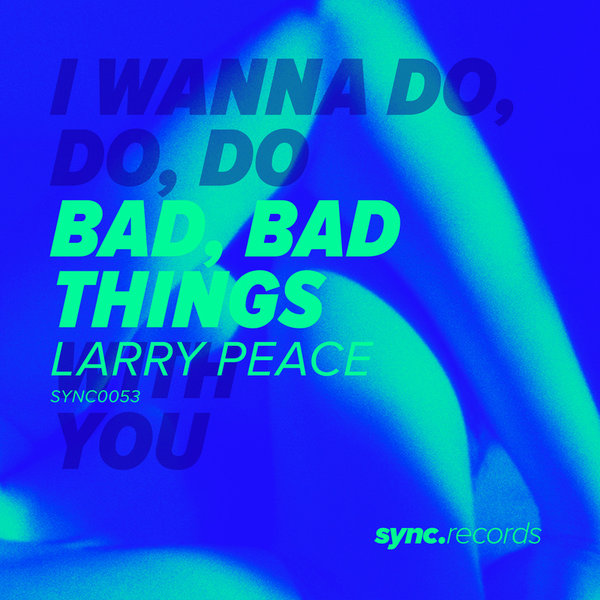 Finally: Larry Peace on sync.records! We are very happy to welcome him with his great classic house track Bad Bad Things.

When Chicago house music began, a young peace found "love at first jack". He knew then, almost instantly, that he wanted to create and perform his own music. By mid-90s a turn of events would land him the gig of a lifetime as a personal DJ for his musical idol, Prince. During the brief stint, Peace learned a few more lessons: take risks and follow your heart, give the people what they want, and learn how to balance the two. Over the years, Peace devoted himself to his craft. One of his superpowers is the way he spins many genres into a single night's set. It's his selections and transitions that separate his performances from his peers' and his intention is to unify his audience. His Minneapolis residency (The Saloon) is where he commands a night called the Haus of Peace. This is where the magic happens as anyone who visits the Haus of Peace becomes immersed in an experience where a preacher-like messenger serves diverse sounds to match his equally diverse dance floor. The objective is to unify all walks of life for a single moment. Peace ebbs and flows through a variety of genres as if to say, "I see you and you're welcome here. This is safe space, so release yourself and join us."

Elsewhere, one can catch Peace at many guest spots where he's strictly a house-head serving up the funkiest house sets. His productions and remixes are an extension of the DJ sets as he delivers even more funky and versatile sounds however, house remains his musical foundation. With releases on Whitebeard Records, Nu Monkey, Plastik People Digital, More Than House!, his own imprint Supa Qween and others, remixes for the likes of Lee Dagger (Bimbo Jones), Luca Deboniare, Dark Intensity, Harry Kasey (KC & the Sunshine Band), and a long list of others, Larry Peace is building quite the catalog of his own material and his work is being recognized and supported world-wide. His big dream/goal is to turn the Haus of Peace into an international day-party running from Vegas to the UK and beyond and with no signs of slowing down anytime soon, it looks as if he's well on his way to do just that.