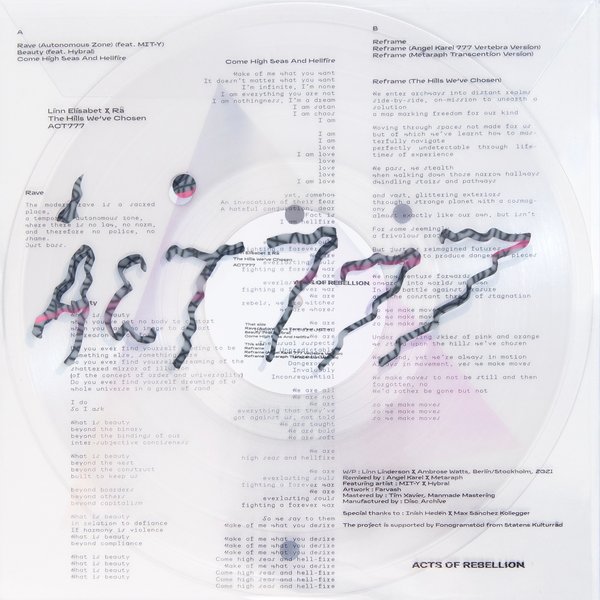 The Hills We've Chosen
Linn Elisabet and Rå, feat. Hybral, Angel Karel and Metaraph
Acts Of Rebellion
ACT777 | 2022-05-27
Artist: Linn Elisabet & Rå
Remixes & features: Angel Karel, Hybral & Metaraph
Title: The Hills We've Chosen
Format: Limited 12" (Individually unique artwork by Farvash)
Label: Acts of Rebellion
CAT#: ACT777
Date: May 27th 2022


"For some seemingly
a frivolous project of representation
But just as reimagined futures
have proven to produce dangerous pieces of fiction

We now venture forwards
onwards into worlds unknown
In the battle against erasure
and the constant threat of stagnation."

ACT777 - The Hills We've Chosen is the seventh act of rebellion, an all gender diverse production. The record unites Linn Elisabet's transgressive techno productions with Rå's eclectic poetry, portraying and reimagining trans, non-binary and queer lives. The Hills We've Chosen is released in a limited 12" format, where each cover is uniquely designed by Farvash, in a three layer transparent and holographic celebration of gender diverse beauty and interconnectedness. Among the guests of the release we find multidisciplinary artist and Bpitch affiliate Metaraph, No Gender head Angel Karel, and Hybral, who runs the FLINTA-centering collective Subverted in Berlin.

Track list:

A1 Rave (Autonomous Zone) (feat. MIT-Y)
A2 Beauty (feat. Hybral)
A3 Come High Seas And Hellfire
B1 Reframe
B2 Reframe (Angel Karel 777 Vertebra Version)
B3 Reframe (Metaraph Transcension Version)


Credits:

W/P: Linn Linderson & Ambrose Watts, Stockholm/Berlin, 2021
Remixed by: Angel Karel & Metaraph
Featuring artist: Hybral
Artwork/Design: Farvash
Rå avatar graphic: Josephine Golan
Mastered by: Tim Xavier / Manmade Mastering
Manufactured by: Disc_Archive

Special thanks to enby excellence rebels Inish Hedén & Max Sánchez Kollegger for lending their voices to Beauty.

The project is supported by funding from Fonogramstöd from Statens Kulturråd.