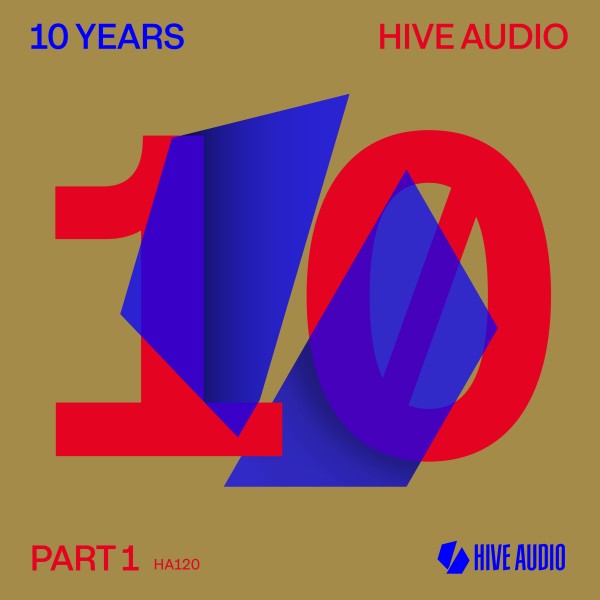 Various Artists - Hive Audio 10 Years, Pt. 1
Anja Schneider
Hive Audio
4056813187465 | 2022-03-25
Drinking to their tenth year in the game, Hive Audio enter 2022 with a celebratory compilation triptych featuring some of the finest names in the house and techno scenes. For this first salvo of incendiary wares bound to bring dance floors to a steady simmer, HA have gathered a stellar cast of big-guns and longtime affiliates including Seth Troxler, Anja Schneider, Steve Bug, Mathias Kaden, Gorge and Dario D'Attis.

Anja Schneider's "Aperol Spritz" toasts first with a fuzzy mix of rolling 4x4 dynamics and sleek textured synth arpeggios. A paced-up number both lounge-ready yet lacking no oomph when a solid kickstart move is required, this one's better tasted on the rocks with a mini-umbrella in it.

Old-school to the core, Dario D'Attis "Tanzstube" loops us in a turn-of-the-millennium filtered-house kind of headspace, replete with the soulful, sample-heavy hooks and end-to-end funky swagger bound to trigger some ravishing memories and create new ones amongst the dancers.

A smashing, hard-shuffling workout hybridised with a Quadrant Dub type of distant lineage, Gorge's "Azami" goes for the epic-sized rather than the intimately acclimated. Primed for both hi-impact and long-distance use, this is gutsy stuff with enough stamina to withstand the most feverish of nights.

Mathias Kaden's 303-boosted treat "Acid Trip" does exactly what's written on the tin, so expect a wild deluge of flickering new beat-informed rhythms, untamed drums and lysergic bass ellipses to keep you and your friends on the edge of mental sanity throughout.

Meanwhile, Seth Troxler's contribution "Crypto Slave" pulls out the sturdy bass leads and bouncy keyboard work for some fun roller-coaster action with something of a carefree, early 90s rave vibe to it. Ideal for gym-tonic sessions in your fav neon-coloured, form-hugging outfit.

A most fitting manifesto of a tune, Steve Bug's overly suave "Let's Go" cuts a path of sense-awakening hedonism in the club with its battery of sizzling-hot bass, love-making-like churn and sensual pep talk oozing guilty pleasures ahead.


Question is, are you ready?