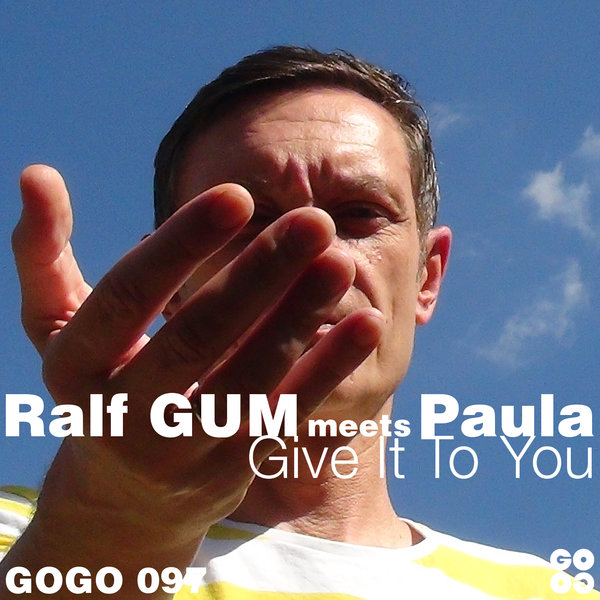 GOGO Music is excited to release Ralf GUM's first single of 2022 for which he teamed up with US vocalist Paula to present "Give It To You". Ralf comes up with another substantial musical bed for Paula's uplifting vocals which add the extra layer for a complete journey thru song.

Ralf GUM has been dubbed as a driving force within the music community for many years now and just had another strong 2021, where he was named "the gift that keeps on giving" by Traxsource in their annual top artist list thanks to a string of notable collaborations. Remaining at the forefront since 1990, he's globally renowned for continuously innovating and shaping rich and inspiring sounds, one of the true influential pioneers of the scene. And he continues to elevate the best of House Music tirelessly.

Paula hails from Atlanta, USA and her work credits look like a who is who of the music bizz. She worked and toured with super-producers Pharrell Williams and Chad Hugo from The Neptune's, Kuk Harrell, Tricky Stewart, acclaimed actor/singer Tyrese, Grammy award-winning Ne-Yo, India Arie, the late-great, R&B superstar Gerald LeVert, Grammy award winning Lalah Hathaway, Robert Glasper and many more. While Paula's lower register with warm, mellow, jazz, soul and gospel coloured vocals continues to establish her in the hearts of Jazz, Soul, Mainstream and Gospel peers alike, she lately discovered House Music and is already no stranger to House lovers anymore.

GOGO Music proudly presents this contagious and dancefloor-ready song by Ralf GUM meets Paula, which elevates all spirits.


1 - Ralf GUM Main Mix - ISRC: DEY162009703
2 - Ralf GUM Instrumental - ISRC: DEY162009701
3 - Ralf GUM Radio Edit - ISRC: DEY162009702

Written by Paula Champion, Michael Ehnes, Ralf Benkert.

Produced by Ralf GUM and Michael "Nivalito" Ehnes.
Lead and background vocals by Paula.

Drum programming, Congas, Shaker, Woodblocks, Bells, Synthesizer: Ralf GUM.
Synthesizer, Fender Rhodes, Lead, Organ, Horn and Guitar arrangement: Michael "Nivalito" Ehnes.
Trumpet: Neil Engel.

Mixed by Ralf GUM.

Mastered by Masterlab.de.
Published by GU Music Publishing, Copyright Control.

P&C GOGO Music 2022.