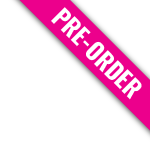 HKR030 |
Pre-order for 2022-02-11
One of London UK's finest DJs / Producers Klevakeys teams up with a true Baltimore USA house don Geoffrey C. Klevakeys & Geoffrey C bring that serious HEAT to the table on this record with a track called 'Spirit Dance'. All the elements of this track work together perfectly as one, with Geoffrey's groovy organ section, bass groove and Klevakeys thumping drums and synth lead arrangement. Its a track that has all the elements to elevate your energy into a higher vibration and make your Spirit DANCE. All hail these two talented producers Klevakeys & Geoffrey C, who have pulled off a great collaboration that has all the ingredients to make your Spirit Dance. Definitely one for your record box.
Credits:
Produced by Klevakeys & Geoffrey C.
Organ, Bass, Keys by Geoffrey C.
Synth, Pads, Drum Programming by Klevakeys.
Arranged by Klevakeys & Geoffrey C.
Mixed by Klevakeys @ House Keys Studios London UK / @ G.C Studios Baltimore USA.
Artwork by Klevakeys.
House Keys Records 2022.