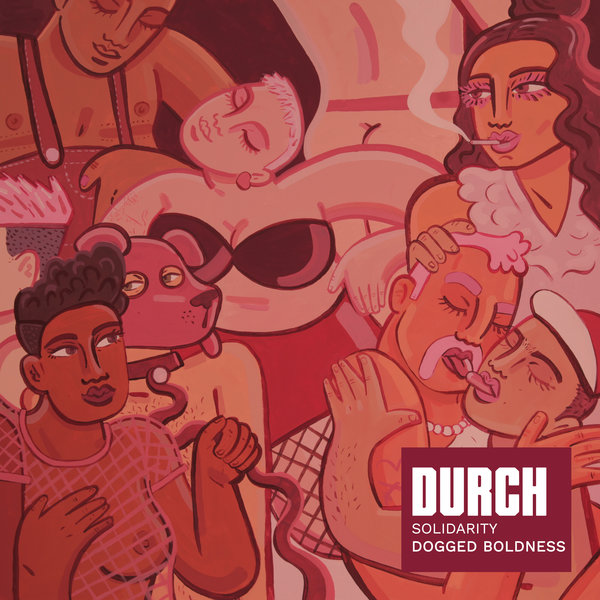 DURCH - dogged boldness
Hybral, Fluid, Femanyst and Marsch
DURCH BLN/TLV
DURCHDIGI006 | 2021-12-17
We proudly announce the release of our first vinyl record "dogged boldness" as digital release. This is a long held dream by the entire crew. With Femanyst, Hybral, Marsch and Fluid we are happy to showcase four artists that are close and dear to DURCH BLN/TLV. The record is a compilation of four hard-hitting, inciting techno tracks. Rough, bold and aggravating, just the way we like it. We are proud that we are able to continuously work with queer artists and to be a platform to further queer artists visibility.

A1 Femanyst - Kraft durch Schmerz
A2 Fluid - Post Industrial Transformation

B1 Hybral - Unheard Voices
B2 Marsch - Mrs. Jones

Artwork by Rory Midhani
Mastering by Chlär

Disclaimer: The world needs more queer artist, more queer music, more queer techno, more queer perspectives, more queer love and more queer intimacy.
No place for any racist, sexist, trans- or homophobic shit.
DURCH - IMMERSION
Sky Leon, Rōse, LESSER OF, Sina XX, Emma Dowdy, I.D.E., OKKOTO, Divine Authority, Technokool, DJ Hyperdrive, FLUCC, Lacchesi, Ecstasya, IIIIII/8, Azyr and Vishscale
DURCH BLN/TLV
DURCH - gossip
GIA, Ayako Mori, Floor Force One, Lucas Campagna, Karl Schwarz, MERVH, Substencia, P RISCO, Charly Schaller, OZUM, Lady Maru, ottoman.grüw, BLØØDSHED and Vendex
DURCH BLN/TLV