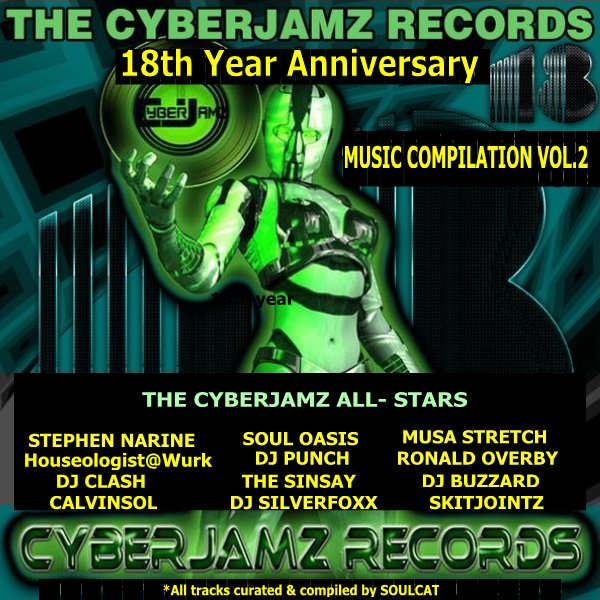 The Cyberjamz Radio/Records 18th-year Anniversary Music Compilation (V2) once again features the few, the proud, and our music Jammers! Target Release Date next Friday, Nov 24,2021

In this second volume, we are featuring two new producers that are not only bad assess producing but we're ready when called upon to bring forth one of their hidden gems as they join our team. Stephen Narine (Steve Love), Scott Skitjointz Seabrooks & Arthur Silverfoxx Phillips aka (Dj SilverFoxx) all deliver bangers for the dance floor.

I would like to welcome our regular team of All-Stars in Ronald Overby who returns with a lovely remix feat. Rescue Poetix with "Souldiers of House" and the hot Eddie Ramos blesses us with another slamming track called "The Houseologist Theme" which is very nice. Let us continue with the collaboration of DjPunch Zanzibar & Darren Jakasal aka PunchCLASH offer their awesome mix of "Its Time To March" (A Baby Powder Afro Mix) which is hot. DjSilverfoxx's "Late" is right on time. Also in this package, we have a dope rework of Soul Oasis "Dueling Congas" by Greg Gray,(The SinSay) and a revisited mix of "Samba Caca" by Hugh Harrell IV (Dj Buzzard) which makes for a great addition to this fantastic jam-packed comp.

If you thought this is it for this compilation, we also have a tech jam cut by yours truly SammyRock aka Soul Oasis entitled "Egypt Calling" for those that like to play differently and Calvin Sol is back again with another Dj Tool with "Afro Deep", a nice loop n ride track as well as the banging "Just Dance" a fave of mine by Steve Love and then we followed it up with a Latin Flavor super-jam by Skitjointz named "Carlito 2" (A Power Rising Mix). We have ourselves another hit with Musa Black's mix of "Tidal Pressure" which is another fave of mine. To close out this release package we welcome home NY Finest Dj Punch who brings his rework of "Gonna Break My Faith" by A.Franklyn, a superb mix, and Dj Clash's dance floor banger "The Zin", A Ba Shake That Afro Dub Mix is a dancer's dream come true.

We are very pleased to offer this 18-year Anniversary Music Compilation (V2) to our brothers and sisters that continue to support what we do for our community.

All tracks curated by SammyRock & DjHousecat(La gata de Fuego)
All rights reserved 2021.