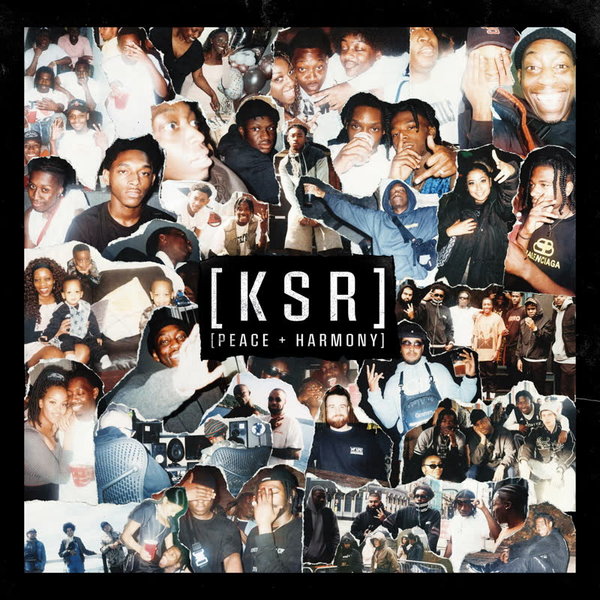 First Word Records is very proud to present you with 'Peace + Harmony'. The first EP from our most recent signing, [ K S R ].
Hailing from Moss Side, Manchester, this young talent has been steadily building a rep for himself over the past few years as one of the UK's most exciting soul vocalists, with his releases encompassing an eclectic assortment of alternative R&B, future soul, hip hop and D&B. Influenced by an array of neo-soul artists, such as D'Angelo and Anderson .Paak, his own soulful style has already seen him tour and collaborate with a number of UK peers; working on projects with label-mates Children of Zeus & Australia's REMi, and supporting the likes of Etta Bond & The Mouse Outfit, as well as performing sell-out headline solo shows in Manchester and London, and playing various festivals across Europe, including the We Out Here festival very recently.
Since he began developing his music in 2017, [ K S R ] has had support from the likes of 1Xtra, BBC Radio 1, BBC Introducing, Mixmag, NTS, Reprezent, Unity & Soho Radio, in addition to featuring on a slew of D&B tracks with artists like Lenzman, BCee, Emba & Redeyes. The collab with Emba was recently named a 'Kiss FM Future Selection' courtesy of Hybrid Minds and features have been supported on Spotify's 'New Music Friday' and 'Mandem - Kings' amongst others. His debut release 'Unfiltered' appeared on Polarface Records in 2019, which was followed by single 'Flex With Me' (also produced by Tyler Daley from Children of Zeus) then an independent second EP, 'Take Control', followed in late 2020 (during the pandemic) which amassed over 500k streams. Additionally to the releases, he was recently recruited by Manchester United as part of their 21/22 season kit announcements, as well as working with Nike and Size? on a special MCR-themed Air Force 1 release.
It's now time for a new extended project from Roosevelt Kazaula Sigsbert - better known as [ K S R ]. 'Peace + Harmony' is a solid set of alternative R&B, produced by Dom Porter and mixed by Eric Lau. Six tracks in all, including the single, 'Harmless' (which received support from the likes of Mr. Scruff (Worldwide FM), BBC Manchester and Victoria Jane (BBC Radio 1), was 'Track Of The Week' on 1Xtra/BBC Introducing, and saw the video racking up several thousand plays in its first weekend) and follow-up 'CGWY' featuring Children of Zeus on a brand new interpretation of their classic track 'Get What's Yours'. From the intro track 'I Wonder', to the downlow future soul of 'Lily Apart', to the autobiographical vibes of 'Born In '98', to the closing track 'Given Summer', also featuring the vocals of Ayeisha Raquel, each track on the EP is of course laced with Roosevelt's unmistakable silky smooth vocals, and is set to join his already impressive catalogue of underground soul classics such as 'Alien Boo', 'Stylin' and 'New Love'.
[ K S R ] says "my third EP, [ P E A C E + H A R M O N Y ] is a collection of my thoughts and experiences from my journey throughout the last two years of my life. Lots of aspects of my life changed over 24 months, along with everyone around the globe. When we were thrown into the unknown at the start of 2020, I stepped away from music for a while as I couldn't find any peace in my creativity and needed to evolve. I finally started to feel cohesive with my songwriting and music, and I could feel harmony between myself and my art once again."
'Peace + Harmony' by [ K S R ] is released on vinyl & digital on First Word Records, late 2021.