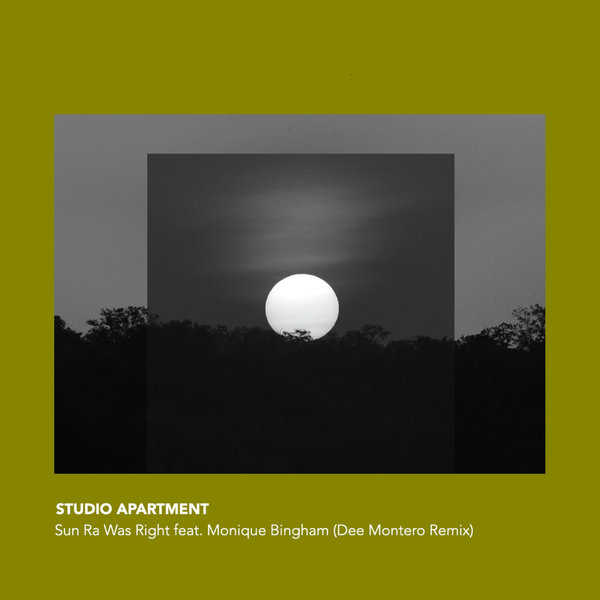 The latest in the series of masterfully curated remixes of STUDIO APARTMENT's latest album '2020~', comes from Belfast, Ireland born/Spanish based DJ and producer Dee Montero.
Taking the bold, liberating original album cut and transporting us to a bubbling terrace party somewhere in the sun-soaked Balearic Islands.
Having released a slew of outstanding records through his notable career on labels including Knee Deep In Sound, Anjunadeep, Diynamic and Selador to name just a few, it is clear that Dee Montero's studio prowess is the perfect pairing for this timeless dancefloor track.

From the onset, Dee Montero sets out his intentions from his remix, landing straight away with rolling 4x4 kicks, intricate shaker loops, and subtle melodic undertones from his choice of fine-tuned percussion.
These delicate underlying melodies hold down the core of this
stunning remix and allow a blissful build of harmonic development throughout the composition. As the beats roll out, Monique Bingham, who's authentic soul vocals have graced tracks from the likes of A Tribe Called Quest, Louie Vega and Kerri Chandler, presents the opening, tantalising few lines of the song.
Paired with reverberating synth countermelodies, Bingham's empowering tones meet a chorus of commodious string swells
and big piano accompaniments. The standout lick from Dee Montero is a tiny, five note phrase that enters at the end of each verse, a signal for change and new beginnings played on a steelpan like synth tone, exquisitely crafted by the Irish native.
As the track progresses, Montero adds choice layers on top of one another, a driving, Moogy bass drone forms the root while synth brass improvisations shimmer across the top.
As the cut-off rises, Montero crafts a sense of light and opening from these skilfully honed sounds.
The ebb and flow created from the interacting instruments form harmonies and tones, are crisp enough to visualise the glistening sun dancing across the lapping waves that bury the earths ley lines.
We can feel the heartfelt energy that has been poured into this remix, from the heroic voice of Monique Bingham to the expertly composed sounds and rhythms Dee Montero has formed around them.
Dee Montero's percussive, undulating house groove fuels this joyous ride throughout. A rolling dancefloor piece that will fill the Ibiza terraces with sidestepping hedonists or dimly lit nightclubs alike. His care and attention to building these intricate rhythms are what bind the remix to become the success that it is.