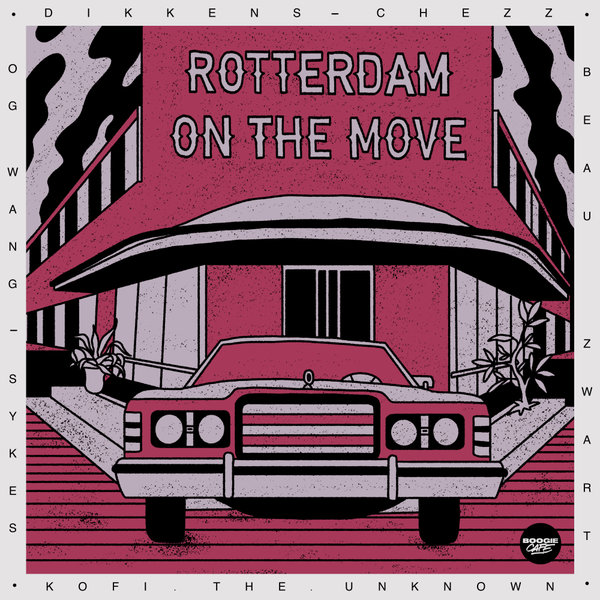 Pre pandemic, Boogie Cafe released a compilation of various emerging artists from Bologna titled 'Bologna On The Move' . This time the focus is on a new wave of amazingly talented producers coming through from Rotterdam NL. The album is dedicated to the more soulful, jazz influenced sound emerging from the city, in contrast to the city's reputation for Techno, Electro and the harder edge of dance culture.

Leading the charge is OG Wang and his track 'Beaming' with a heavy slice of dancefloor jazz with an infectious lick and slick broken beats, a track that will move any jazz head to the floor.

Following on is a wonderful warm slice of broken beat from label partner Chezz who is responsible for putting the compilation together. 'Say What?' is a tasty slice of future music, with spaced out house influences and an infectious squelchy synth line.

Kofi The Unknown delivers a house excursion that doffs a cap to Detroit, championing rich deep house synth riffs, a jaunty bass and driving 808 drums.

Next up is Dikkens and his offering 'The List' a deep soulful house track that wraps a drowsy well known Motown vocal round a hypnotic piano lead and skippy percussion.

Beau Zwart's track is a fine slab of dance floor jazz. 'Zarispit' has wonderful crisp drums, a weighty bassline, heady organ stabs, and trippy electronics.

Lastly things get even more soulful. Sykes track 'No Way' features his own vocals layered over some skipping broken beats and a bubbling funky 303, proper early evening or late morning goodness.