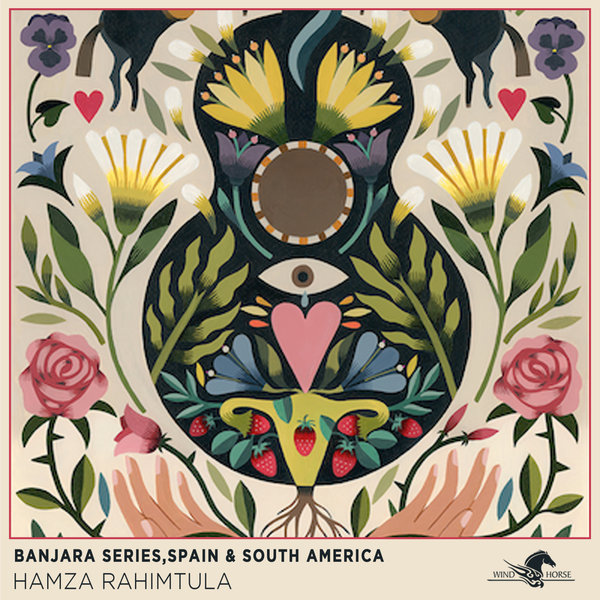 Banjara Series, Spain & South America
Juan Mejia,J&M Brothers,Loopy Juice,Hamza Rahimtula
Wind Horse Records
WHR054 | 2021-10-01
Relentless and excellent, Wind Horse Records founder Hamza continues his journey by traversing worldwide waveforms through the Banjara' series. Banjara Spain and South America illustrates the amazing repertoire that this sonic genius possesses, by introducing listeners to the sounds and vibes from Espana and the Americas.

The compilation kicks off with Los Invisibles', which drips of summertime flavors and musical notes inspired by the Latin sunshine. The track is playful, combining vocal stabs, organic rhythms and notes of the piano for a perfect opener. Talented Colombian DJ and producer Juan Mejia steps up with the beautifully constructed track Sazon', teaming up with Hamza on remix duties to deliver a BOMBA. Sultry trumpets and Spanish guitar riffs compliment a simple yet ethereal groove with heavenly vocals. Latina' is playful, energetic and extremely bouncy (we mean it!). A funk-driven bassline powers this track, joining familiar accompanying instruments and elements, making this a secret recipe for dance debauchery.

Next up, Hamza delivers a soulful yet classically constructed house music tune called Ritmo Del Amor' that has moments of emotional suspension and sections of addictive rhythms. Cleverly layered percussions meet squelches of acid, uplifting vocals and gorgeous guitar strums, making for a proper dancefloor package. Juan Mejia teams up with Hamza once more on Black Sugar', a quirky track that's fun and feisty. We're pretty sure you'll feel those sunset vibes all through as it transports you on an imaginary trip through the Spanish Costas and South America. Discotello' brings us in to the second half of the compilation with those nu-disco ish feels we love. Intricately curated and masterfully executed, this one you might have on repeat!

JandM Brothers join Hamza on the next jam called Sabrosura', a tech-house scorcher. Functional, fantastic, effective and sure to work any dance floor. Loopy juice follow suit with Namaste Rio', collaborating with Hamza for and delivering a dubby, daytime destroyer. Minimal, powerful and maybe rowdy too, expect to find this one being dropped at a club near you. As we near the end of the Banjara Spain and South America series, Gitano' once again helps us draw an aural picture, with effusive vocals and beautiful melodies.

Sky Song', the final offering in this installment is an ode to the beautiful culture that has graced the world with its musical culture for centuries and is the perfect end to this series.