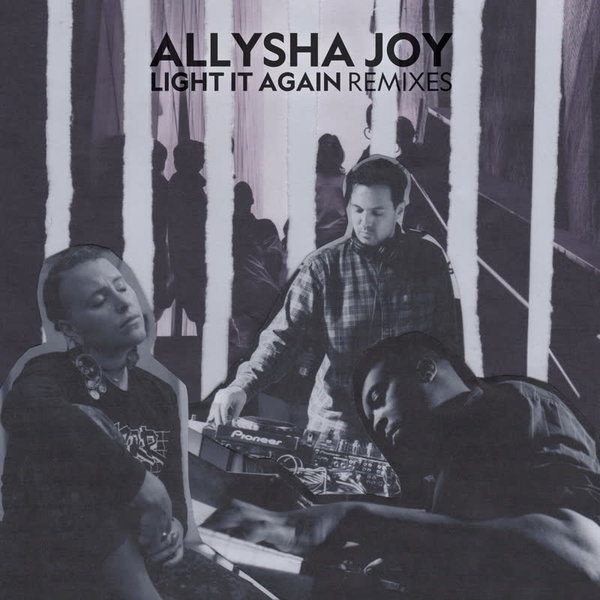 Better
Kaidi Tatham Remix

(5:37)
First Word Records bring you more music from Allysha Joy, with two reinterpretations of tracks from her first EP for the label, 'Light It Again', both flipped in a broken beat vein by two of the UK's finest in the field.

Firstly Alex Phountzi takes on the EP title track 'Light It Again'. Alex has been a prominent player in the bruk scene for many years, from being part of Bugz In The Attic to infamous club sets with the CoOp Presents crew. He founded the label of the same name (CoOp Presents) a few years ago along with IG Culture, who he also partners with under the moniker NameBrandSound. Alex hosts a monthly show on Worldwide FM with the Selectors Assemble crew.

Secondly, Allysha's track 'Better' is transformed by the inimitable Kaidi Tatham. Also one of the original Bugz, Kaidi is a label-mate on First Word (releasing two albums and three EPs for us), was once dubbed "the UK's Herbie Hancock" by BBC Radio 1's Benji B and has worked with a whole host of legendary artists; most recently with frequent collaborator's DJ Jazzy Jeff and Dego. This track also appeared on the First Word EP/compilation 'A Family Affair'.

Well versed in poetry and performance, Allysha Joy's potent lyricism, unique musicianship and killer vocals have garnered legions of attentive fans the world over. She's an integral member of the Melbourne soul jazz scene, known as part of the acclaimed 30/70 Collective, recent collabs with Close Counters, releases for labels such as Rhythm Section, and for her own solo work; including an award-winning debut album on Gondwana.

The late 2020 EP 'Light It Again' featured production from Grammy-winner Clever Austin and received support from the likes of Gilles Peterson, Jamie Cullum, Jamz Supernova & more.

The subject matter of the track 'Light It Again' is mental health and "the cycle of addiction and pain, the coping mechanisms that hold us back from reaching our true potential". Meanwhile 'Better' explores the external and internal struggles that occur trying to create a more inclusive and compassionate world.

Allysha's lyrics weave together a heartfelt mix of love, power, desire, wonder, anger, faith and hope for change. An artist that presents a palette of intricate grace and optimism, whilst unafraid of adding uncomfortable truths. She is an incredibly powerful live performer; her husky vocals sonically synced with her formidable Fender Rhodes playing, whilst her influences are a solid base of jazz, hip hop and R&B; all glazed with the unique special sauce the Melbourne soul scene has become known for globally. A gloriously meditative, raw soul - repackaged here with some British bruk juice - we are delighted to be able to share her music with you once again!


'Light It Again Remixes' is released on digital worldwide, July 2nd 2021.