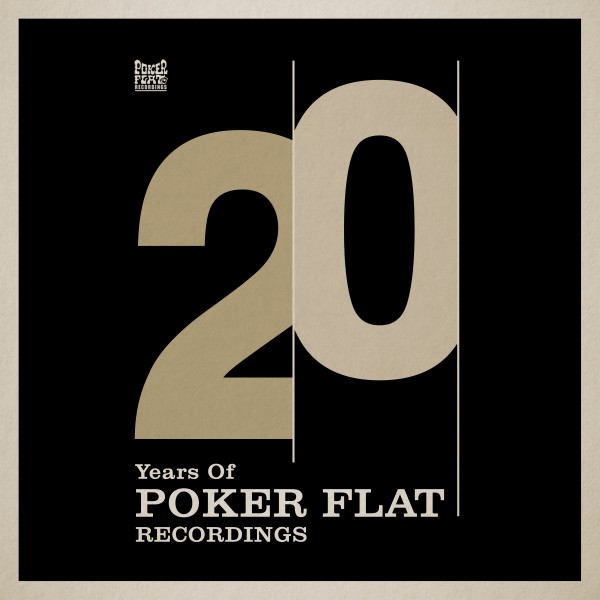 20 Years of Poker Flat Remixes
Various Artists
Poker Flat
PFRDD49 | 2021-06-18
Finalizing the exceptional series that celebrates the legacy of two decades of Poker Flat Recordings this collection summarizes the best remixes that have been crafted for selected tracks from the label's catalogue.
20 years in the game is an achievement worth celebrating, particularly in the fickle world of underground dance music and so you'll find a who is who of some of the most influential artists of the genre on the tracklist.

01. Steve Bug: Loverboy (Acid Pauli Retouch)
An undisputed classic of the electronic music scene, Steve Bug's 'Loverboy' was released on the first Poker Flat release ever ' Double Action' back in 1999. Berlin legend Acid Pauli approaches it from a different angle - stripping away elements until a deeply trippy skeletal house track remains.

02. 02. John Tejada: Asanebo (Quarion Remix)
Back in 2006, the Austrian-born Vegas-based John Tejada released an EP on Poker Flat entitled Big City Music. Tucked away on the b-side was Asanebo, a driving piece of minimal tech house that turned into something of a sleeper - gaining notoriety over the years among those in the know. As a part of the 20 years of Poker Flat celebrations, the label gives it a long overdue re-airing via a tough, firing remix from Quarion, aka Yanneck Salvo. Quarion's rework adds a choppy, aggressive vibe to the track that brings it right up to date, while enhancing the original's uniqueness.

03. Märtini Brös: Big And Dirty (Butch Remix)
The Butch remix of 2004's electro-clash-tinged Big and Dirty is a suitably energetic affair - firing percussion and a restless, edgy beat propel the track forward. The iconic vocals by Eric D. Clark feature strongly, wrapped around a sick acidic synth.

04. Argy: Love Dose (Tim Engelhardt Remix)
Originally released in 2005, Love Dose was the first release on Poker Flat by the then rising star, Argy. The greek born Argyris Theofilis would go on to become a major player in the scene, and it's not hard to hear why with Love Dose - a subtle and hypnotic track with evocative vocals in Spanish by Valeria.
In the hands of German producer and Poker Flat regular Tim Engelhardt, the track gets a new lease of life - the edges get sharpened and the rhythm a little tighter, while the balearic, acidic influences continue to shine through. Music for a sunrise in Ibiza, then and now.

05. Steve Bug, Cle: Behind The Curtains (Guti Remix)
Behind the Curtains was originally released in 2007 and a masterful example of the deeper, minimal sound of that time. Here, South American legend Guti switches up the parts and delivers a tough, contemporary take on the classic. Maintaining the stripped down vibe the track is augmented by lush pads and sharp beats.

06. Martin Landsky: 1000 Miles (Harry Romero Remix)
The original first came out in 2006 and has since been remixed and re-edited on numerous occasions - a sign of the esteem the track still holds in the scene.
Here, the NY legend Harry Romero gets his hands on the original and twists it into a slice of streamlined, pumping house music. Romero's skills shine through while paying respect to the original's classic status.
07. Märtini Brös: Flash (Michael Mayer 606 Remix)
Flash appeared on Märtini Brös debut album 'Pläy' in 2002 and is one of their biggest hits. Here it gets remixed by the Kompakt legend Michael Mayer - his 606 remix is a deep, rolling affair.

08. Steve Bug: A Night Like This (Mihai Popoviciu Remix)
Steve Bug's seminal 'A Night Like This' originally dropped back in 2001. Here it gets the treatment from label ally Mihai Popoviciu - the Romanian producer brings a new twist, shaping the material into a streamlined tech-house roller that is both faithful to the original and completely his own vibe.

09. Märtini Brös: Babyhaze (Mathias Kaden's Biox Ultra Remix)
Babyhaze first dropped in 1999, and here is remixed by tech-house legend Mathias Kaden. The track is given a 2019 overhaul, spicing up the groove in the signature style of the German DJ and producer.

10. Berkson & What: Keep On feat. Robert Owens (Tim Engelhardt Remix B)
As one of Cologne's youngest and brightest electronic music stars, Tim has become a key player in the Poker Flat family over the last few years, releasing a slew of incredible singles and EPs, not to mention his debut album 'Moments Of Truth' in 2017. His second remix for Keep On retains many of the elements of the former version but this time employs a more traditional 4/4 structure, adding a slow-burning tension with dramatic pads, dreamy synth stabs and glistening keys.

11. Steve Bug, Cle: Seven Hills (Greg Gow Remix)
Canadian producer Greg Gow takes on Seven Hills from 2011, and manages to sculpt a firing, lean rhythmic workout that would under any normal circumstances set the dance floor ablaze.

12. Steve Bug: Loverboy (Catz 'n Dogz Remix)
Catz 'n Dogz are a Polish producer duo making big waves in recent years, and their version of 'Loverboy' brims with their unmistakable energy - chugging, hypnotic groove and tonnes of effects and melodic twists and turns.

13. Alex Niggemann: Materium (Argy & Ernest & Frank Remix)
Here, one of Alex Niggemann's biggest tracks, the 2014 techno classic Materium is treated to a rework by Argy, Ernest & Frank. The greek born, London based Argy has built a long and varied career making and playing quality tech and deep house, as well as having collaborated with legends such as Kerri Chandler or Manuel Göttsching. For the remix Argy teamed up with the Italian/Spanish DJ and producer duo Ernest & Frank. The trio brings a silky touch to the original, focusing on teasing out layers of feeling though the ascending and descending lead synth lines, and some constant pad sounds that bring a sense of space and atmosphere to the track.

14. Trentemøller: Moan (Tim Engelhardt Remix)
The glorious conclusion of the collection is concerning the work of Danish polymath Trentemøller, and his certified classic Moan. Featuring the vocal-talents of Ane Trolle, the track was originally released in 2007, in what could be described as one of Trentemøller's many splendids. Tim Enghelhardt's reinterpretation is the perfect mix of Trentemøller's instinct for sleek hooks with his own savvy, slinky tech house.