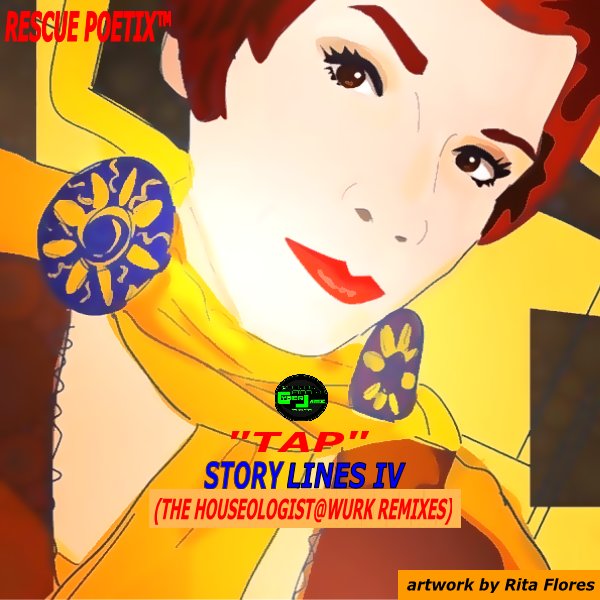 TAP
Houseologist@Wurk I Can Hear The Drums Echo Vocal Mixxx

(8:24)
TAP
Houseologist@Wurk I Can Hear The Drums Drum Mix

(9:00)
TAP
Houseologist@Wurk I Can Hear The Instrumental Mix

(8:22)
This special artist has been doing many things not only for her career but for others in the field of poetry. I'm so proud of what Rescue Poetix has accomplished throughout the years and continues to serve our musical culture. As an ode to her, I have asked a great brother and producer Eddie Ramos (The Houseologist@wurk) to create a few remixes of one of my favorite Rescue pieces in "TAP". This poem is about hearing those drums and percussions that call us to the dance floor and pays homage to our Ancestors. The lyrics of this poem are powerful and Eddie's Latin-Flavor conga ride is just what our spirits call for when we dance the night away.

Play this loud and you too will hear the drums as they thump in the rhythm of your life. So Tap, Tap, Tap.

All lyrics are written and performed by Susan Justiniano BMI 2021
produced by Eddie Ramos for Houseologist@Wurk 2021.
co-produced by Rescue Poetix(TM)
artwork by Rita Flores

everything Rescue Poetix(TM) - https://bit.ly/3uNwHTL
more https://bit.ly/3uKWETZ
everything Eddie Ramos - https://bit.ly/3vLVRmR
Houseologist@wurk on Bandcamp - https://bit.ly/2S8WbO1

*Another SOULCAT JOINT 2021.