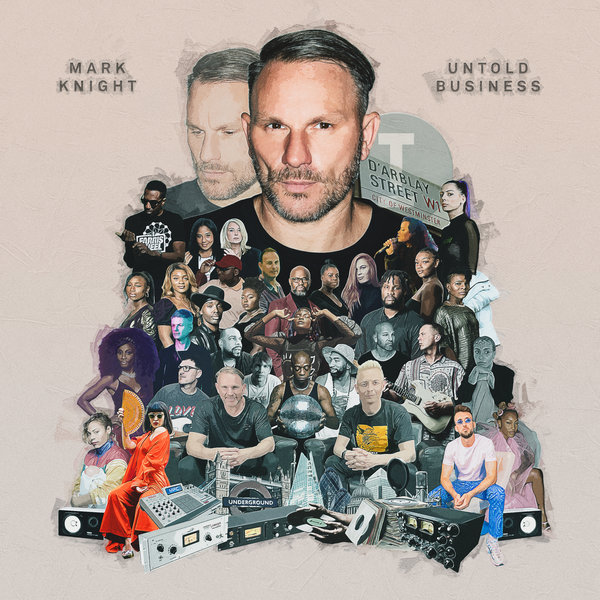 TOOL10420/1Z | 2021-06-25
Toolroom founder and Grammy-nominated producer Mark Knight announces his new album Untold Business: 13-track collection of vocal house music which aims to inject a much-needed dose of meaning and longevity into the world of dance music.

Mark Knight has gone back to his roots on his new album Untold Business, reprising the sounds and records that made him the artist he is today. Diving through his extensive collection of classic Funk, House, Soul and Disco records from the 1970s and 80s has provided the bedrock for the album, which is an homage to the soulful, vocal- led house music that Mark first fell in love with in the 90s.

A criticism often levelled at some modern dance records is that they are highly disposable. As the barriers to both production and releasing records have lowered, house music has become saturated with countless tracks, some of which take mere hours to throw together and are forgotten even more quickly, while the never-ending treadmill of DJ gigs have forced even experienced producers into a cycle of producing purely functional records, with longevity and meaning barely considered.
Step forward Mark Knight with a collection of meticulously crafted, positive, life- affirming records with a focus on real instrumentation and properly crafted songs that will stand the test of time. Untold Business is the antithesis of the functional, cookie- cutter dance music that has become increasingly ubiquitous over the years, and it sounds absolutely glorious.

Lead single Everything's Gonna Be Alright features vocals from Beverley Knight as well as the London Community Gospel Choir, who together bring a powerful message of positivity, solidarity and hope: themes that echo throughout the rest of the album.
"I wanted to write a song of hope as we come out of this incredibly tough time. I feel that musicians and producers have a responsibility to provide the soundtrack to people's lives, and with this glimmer of hope on the horizon, I wanted this song to be a moment of positivity for the future ahead." Mark Knight

From the string section, to the 14-piece London Community Gospel Choir, to the incomparably brilliant Beverley Knight on lead vocals – Mark worked with some incredible musicians on the single: an approach that informs his approach for the entire album. Untold Business features further collaborations with the likes of Shingai (Noisettes) Michael Gray, Robert Owens and many more.

In addition to the 10 new tracks recorded especially for the album, Untold Business also includes three of Mark's singles from 2020, including one of the biggest releases of his career to date. All 4 Love was a collaboration with Rene Amesz and Tasty Lopez which became firmly lodged on the Radio 1 A list for six weeks with worldwide success following soon after. Picking up more than 10 million streams on Spotify it was without doubt one of the biggest house records of the year. Also included here are If It's Love - a joyous celebration of a soulful house sound that came to prominence in the 90s – and Tonight, which took inspiration from the brisk, looping, filtered house music of the early 00s.