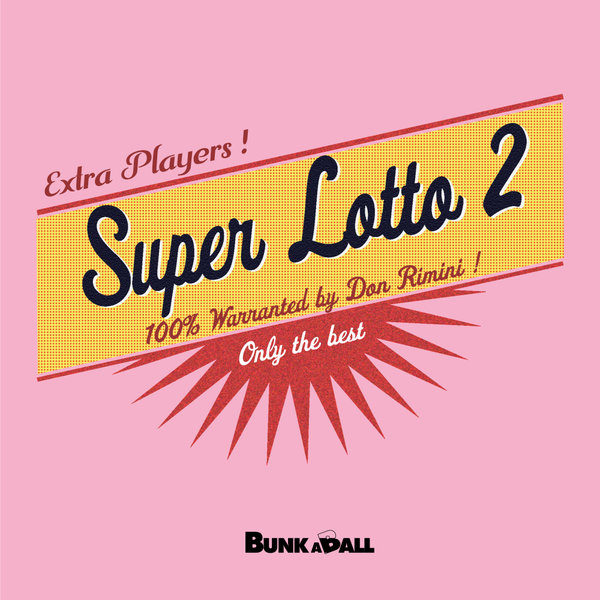 BUNK058X : Super Lotto 2 Compilation
Here is a new Super Lotto compilation with some dope extra players. 100% Warranted By Don Rimini

Yzal Wolf
Passionated by Chicago House and Ballroom beats, Yzal Wolf is always dancefloor focused in his productions and deliver this exclusive new bomb for Bunkaball records.

'Adjeoupe' is a massive track, with 808 beat and modular synths witch Jimmy Edgar should be proud of.

Ben Candel
Ben Candel discovered the world of electronic music via an unexpected meeting around the age of 22, full of ideas and the need of artist expression, it's mechanically that he installs Ableton and all types of instruments on his computer.
In 2017 that he went to great lengths by creating the 'Woodland Festival' this project takes place every year on the last weekend of August in a private forest in France, a unique place of its kind.
After years of professional, cultural and musical enrichment and a certain desire for artistic independence, he created 'PAIN BENIT' Label at the end of 2019. To produce himself and launched a series of showcase to play the label's artists. Since then, no less than 20 releases are available in the catalog, coming from artists from all over the world.
One thing is certain, if the dancefloor were a dynamite, Ben Candel would be the wick ...

'My dwag' associates old school beats and new school voices. The idea is simple, use vintage instruments (808, 303) and join a Rap's voice with modern flow. It's the thematic that he wants to launch for the realisation of it production. All items, instruments, artistic position create a general surprising harmony. Dive into a musical swell filled with good flow. Beware of seasickness.

Ocsav
Ocsav a.k.a Vasco is a Belgian dj/producer. Like any other person that has an older brother, he got into electronic music thanks to the latter who made him listen to Vitalic's big hit 'No Fun'. In 2018, he released his Nobody EP which gained traction and was played across the globe. Almost 2 years after his last release, Ocsav is back at it again and ready to full send it in 2021.

'Giacomo Blacomo' will shake the ground with its heavy kick and bass. Feel my cazzo di basso in your face.

IPSE DIXIT
From Italy the Duo IPSE DIXIT is a meeting between music and providence, two different ideas inside a uniqueanddifferentmusicalproject.

'Feel The Bassline' it's a mix between techno acid vibes and tech-house drums and a biglove for the speedof the track.