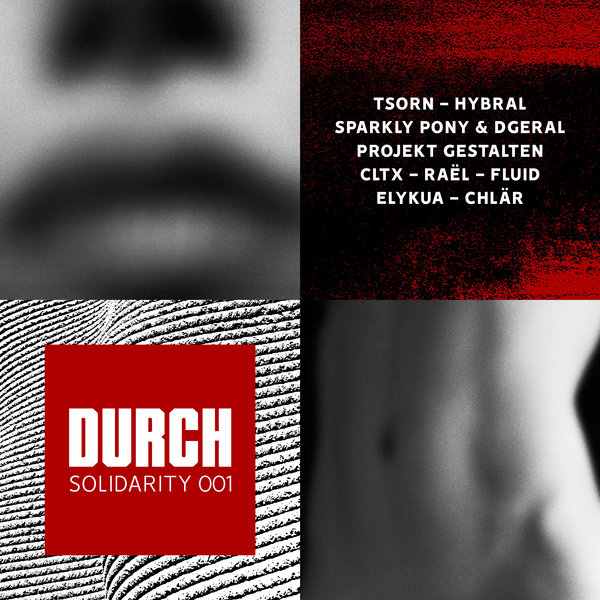 DURCH​[​digital​]​SOLIDARITY 001
Fluid, Hybral, Chlär, CLTX, Raël, Projekt Gestalten, Tsorn, Sparkly Pony, Dgeral and Elykua
DURCH BLN/TLV
DURCHDIGI001 | 2021-03-05
DURCH[digital]SOLIDARITY 001
In that spirit DURCH[digital]SOLIDARITY 001 is the first of three releases this summer and a love letter to queerness.

An eclectic collection of queer and FLINT* artists as well as vocal supporters of the queer community.

DURCH[digital]SOLIDARITY features some of the most exciting up and coming techno artists, ranging from politica, noisy hardcore to dark EBM inspired new-wave to melancholic techno.

Durch is a non-profit organization, donating all the revenue from releases to organizations helping queer, BIPOC and trans people in need.

The revenue of this release goes to: TransInterQueer e.V. (TrIQ) and Casa Kuà.
DURCH - IMMERSION
Sky Leon, Rōse, LESSER OF, Sina XX, Emma Dowdy, I.D.E., OKKOTO, Divine Authority, Technokool, DJ Hyperdrive, FLUCC, Lacchesi, Ecstasya, IIIIII/8, Azyr and Vishscale
DURCH BLN/TLV
DURCH - gossip
GIA, Ayako Mori, Floor Force One, Lucas Campagna, Karl Schwarz, MERVH, Substencia, P RISCO, Charly Schaller, OZUM, Lady Maru, ottoman.grüw, BLØØDSHED and Vendex
DURCH BLN/TLV