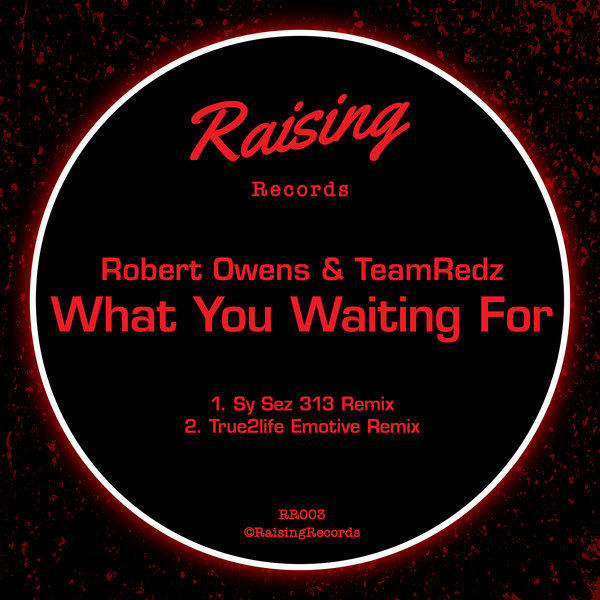 For our 3rd release we turn things RED to honour the late great West London Don, Mr Kenny Redz ...who is 1/ half of TeamRedz with his son Lee Marks.

Kenny Was a champion of house music from the very start ...and for this powerful & motivational track 'WHAT YOU WAITING FOR' Kenny & son Lee teamed up with old friend & long time collaborator, the legendary Robert Owens! ...Robert needs no introduction and is quite possibly one of the most famous voices ever in house music! Father & Son duo TeamRedz & Robert's combined energy created something very powerful & evoking!

For the 1st of 2 packages we give you the 313 Remix from label boss Sy Sez which takes its name from another late legend, Detroit's Mike Huckaby (RIP). Sy used the exclusive sample pack from Mike's 'My life with Wave' vinyl release as part of his remix and see's him steppin into his Deep & Raw shoes for this one!

Also on the package, another outing for Bristols True2Life - who brings his trademark bounce n skip with dem garage-house vibes & baseline pressure, takes the vocals to another dimension.

Raising Records are extremely humbled, grateful and proud to be entrusted with this release and to pay the highest respects to Kenny (RIP).

Also, it is a great moment for us to have an artist like Robert Owens onboard!


@raisingrecords


CREDITS:


Song written & performed by: Robert Owens

Produced by: Kenny Redz, Lee Marks


Sy Sez 313 Remix:

Drums, Music, Arrangement & production by: Sy Sez

Mixdown & Mastering by: Matt Bandy @ Earthworks Studio


True2Life Emotive Remix:

Remix production and music by: Richard Pring (True2Life)

Mastering by: Stuart Ketteridge @ South East Studios.