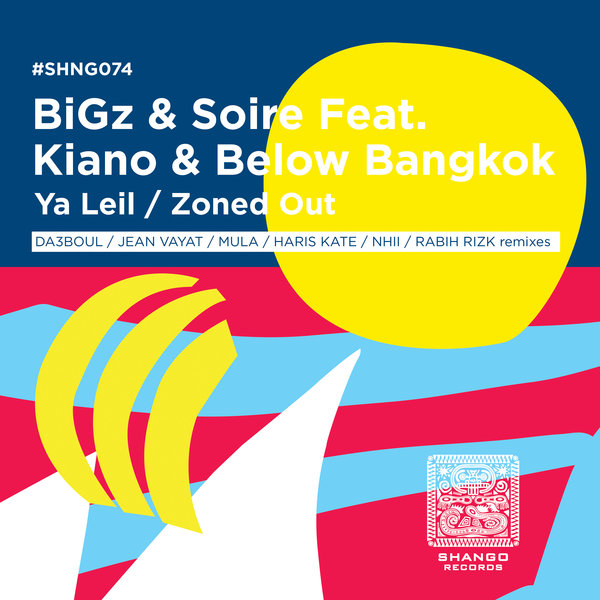 Ya Leil.Zoned Out
BIGz & Soire feat.. Kiano & Below Bangkok
Shango Records
SHNG074 | 2021-04-02
Born in the dark streets of Cairo, grown to the unforgettable forests of Santa Esmeralda, spending its teen
years in Bombay and Tangier markets, mature into the deep spacey Jungle of Ghana we proudly present
you a new label from the land of the pyramids: SHANGO RECORDS invites you to an unheard world
music psychedelic trip: like through a colorful kaleidoscope we will melt down Indian and Pakistani Vibes,
Arab-Tek and Oriental groovy vibes, Afro-Beat rhythms n' pieces, Cumbia Tropicana flavors and cosmic
Ghetto-Latin vibes into forbidden sounds of frenzied electronic dancefloor rituals. Outside traditional paths
these driving grooves and polyphonic structures take the adventure seeking dancer to Dionysian highs and
places never been before.
Most of the big shore places were closed now and there were hardly any lights except the shadowy,
moving glow of a ferryboat across the Sound. And as the moon rose higher the inessential houses began
to melt away until gradually I became aware of the old island here that flowered once for Dutch sailors%u2019
eyes%u2014a fresh, green breast of the new world. Its vanished trees, the trees that had made way for his
house, had once pandered in whispers to the last and greatest of all human dreams; for a transitory
enchanted moment man must have held his breath in the presence of this continent, compelled into an
aesthetic contemplation he neither understood nor desired, face to face for the last time in history with
something commensurate to his capacity for wonder. And as I sat there brooding on the old, unknown
world, I thought of his wonder when he first picked out the green light at the end of Daisy%u2019s dock. He had
come a long way to this blue lawn and his dream must have seemed so close that he could hardly fail to
grasp it. He believed in the green light, the orgastic future that year by year recedes before us. It eluded us
then, but that%u2019s no matter%u2014tomorrow we will run faster, stretch out our arms farther%u2026. And one fine
morning%u2014%u2014 So we beat on, boats against the current, borne back ceaselessly into the past. This is the
first Shango Records single for 2020 and comes by BIGz & Soire with the help of Kiano & Below
Bagkok. The package is complimenting with amazing remixes by Da3boul, Jean Vayat, Mula, Haris
Kate, Nhii and Rabih Rizk. A journey to the mountain of forever with your soundtrack for a dancefloor
meditation!