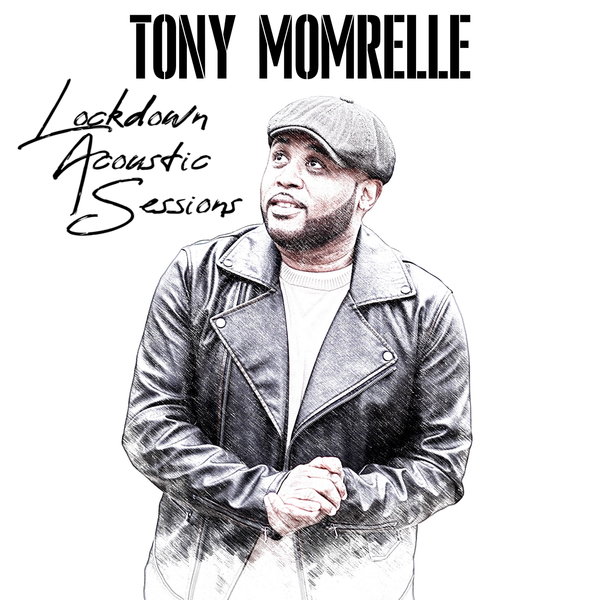 Tony Momrelles forthcoming LOCKDOWN ACOUSTIC SESSIONS EP is proof that music can and should be made in every circumstance. Recorded remotely during the pandemic, from locations across Europe, this new EP showcases the raw vocal talent of a man who has been described as The 21st Century Stevie Wonder (The Guardian).

Six tracks: three brand new songs, one stunning Donny Hathaway cover, and two acoustic revisits of Momrelle classics make up the new EP.

The feel-good, upbeat ESCAPE released as a single in early 2021, accompanied by a music video that brought together footage of dozens of Momrelle fans across the globe. This was followed by a long- awaited Donny Hathaway cover SOMEDAY WELL ALL BE FREE, a soulful remake of the 70s classic originally written by Edward Howard.

A MILLION WAYS and SPOTLIGHT are two firm favourites among fans, and these acoustic revisits offer a wonderful canvas for Momrelles vocals to shine afresh.

YOU GOT ALL THE LOVIN is a brand new original soul/blues track, written alongside Sade songwriter, BEN TRAVERS.

Momrelle says: This EP is an encouragement to everyone to look forward to brighter times and remember that every dark night comes to an end eventually. The last twelve months have tested us all, but music is something that unites everyone, and Im glad to be able to give people a reason to smile.

TONY MOMRELLE is one of the most exciting and significant soul musicians on the modern British stage. In a music career spanning 20 years, he has performed with some of the greatest artists in the world: Incognito, Gloria Estefan, Celine Dion, Janet Jackson, Whitney Houston, Chaka, Sade, Gary Barlow, Andrea Bocelli, Gwen Stefani, Robert Palmer and many more. In Autumn 2016 he supported the legendary Earth, Wind & Fire on their sold-out UK tour. His acclaimed debut album 'Keep Pushing' was released in 2015 - an infectious mingling of eighties-inspired synths, jazzy keys, classic piano and soaring soul vocals. Strong mainstream and regional radio support for the album culminated in four BBC Radio 2-playlisted singles and ongoing airplay across Europe. Momrelle's 'Keep Pushing Tour' has flown world-wide, playing to sold-out audiences at venues and festivals in the UK, Australia, Italy, Germany, Russia and France. Notable media appearances in 2017/8 included an intimate duet with Jools Holland live on the much-loved BBC One show 'Later with Jools Holland', as well as distinguished collaborations with the Guy Barker Orchestra and Big Band for BBC Radio 2 . His sophomore album 'Best Is Yet To Come' released to critical acclaim in 2019.