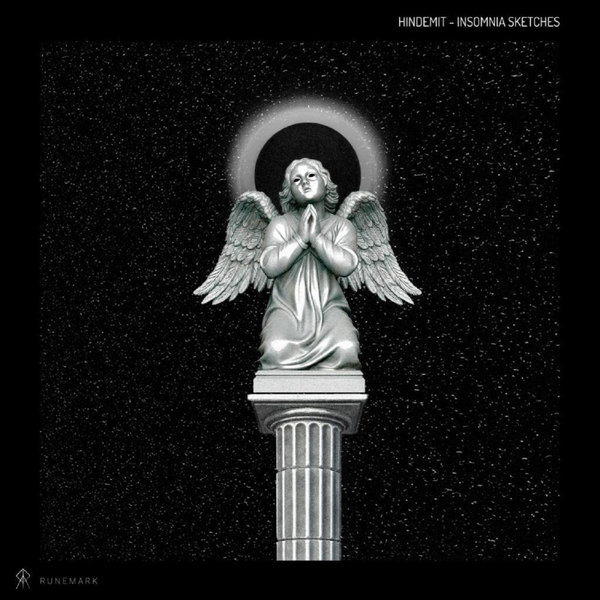 There are many reasons to stay awake at night, and celebrated Lithuanian electronic music composer and performer Marijus Adomaitis has explored most of them with his music. However, the emotional downtempo sound of his latest project Hindemit may come as a bit of a surprise for those used to upbeat mood of Mario Basanov or dance bangers of Ten Walls. This isn't party music, it's what you would listen to when the party is over.
Inspired by the great composers and musicians throughout the ages, 'Insomnia Sketches' brings eight original tracks following the classical structures of composition. Instead of aiming to grab the attention and trigger the corporal reaction, Hindemit invites the listener to take a break from the outside world and experience the universe within, doing it calmly yet persuasively.
Unrushed ambience combines deep bass lines with almost translucent web-like soundscapes and gentle trickles of the piano, creating a cinematic sonic experience that has meditative and therapeutic effect for the scattered thoughts of an uneasy mind. The album unfolds as a journey from slightly ominous Largo to tranquil Nocturne and Sonatina, all the way to the subtly grandiose jazz-infused Finale, as if to make the inevitable transition back to the chaotic reality of life just a bit smoother.
All in minor keys, the album carries a certain melancholic mood and serenity at the same time. It provides a respite from intrusive thoughts and the mind's inability to shut down, a feeling those familiar with insomnia know all too well. Instead of offering the uplift and a cheer, it simply asks the thoughts to quiet down and make some room for delicate and tender flow of music.
Consolidating more than thirty years of experience of listening, learning and creating music, 'Insomnia Sketches' reveals a different side of the composer, romantic and gentle one. Although different in emotion, the new release contains the signature characteristics of Marijus' sound, rich analogue mixed with utmost precision and sophistication.