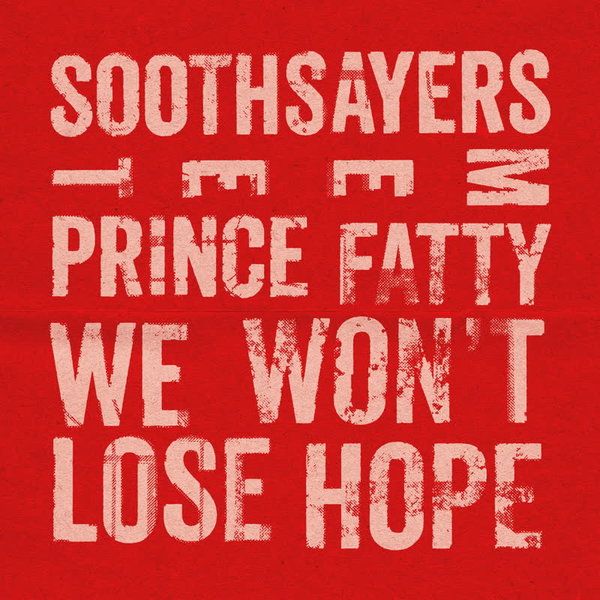 We Won't Lose Hope (feat. Prince Fatty)
Wah Wah
WAHDIG130 | 2021-03-26
Soothsayersare something of a South London musical institution. Having released nine albums over the course of twenty years, the latest of which,We Are Many, continues their trademark dub and Afrobeat sound as well as providing a positive and uplifting statement in challenging times - the overriding power of the music leading the band to continue forward, ever pushing their musical boundaries and concepts.


No track on the album does this to greater effect thanWe Won't Lose Hope, a call for optimism despite the divisiveness of Brexit, and the uncertain future of a world slowly coming out of a global pandemic.


As frontman Robin Hopcraft puts it:


"Love will triumph over hate and the division, unrest and inequality in our communities, and we need resilience, perseverance and hope to get through to the other side with our spirits intact.Hope is what keeps humans going forward. Hope for our own futures, our loved ones, our communities, however big or small. Hope for nature and our planet, hope for human developmentso that people's life paths are not defined by where they were born or how they appear."


Getting Brighton based reggae royaltyPrince Fattyinvolved in this single made sense both musically and politically. Wah Wah 45s has a long standing relationship with the Anglo-Italian Mike Pelanconi since releasing theirDele Sosimi Meets Prince Fatty And Nostalgia 77 In Dubalbum back in 2016. For Fatty the project allowed him to create a typically spaced out soundscape aroundJulia Biel's exquisite vocals and add live instrumentation including none other than British soul legendOmaron keyboards!


The message behind the music was also important too though, as Mike explains:

"the concept of the song touched a nerve with me. I am of English and Italian descent and consider myself European. Brexit for me is a personal tragedy. Freedom of movement has been lost and for now at least the Music we make is the only thing left with no borders!"