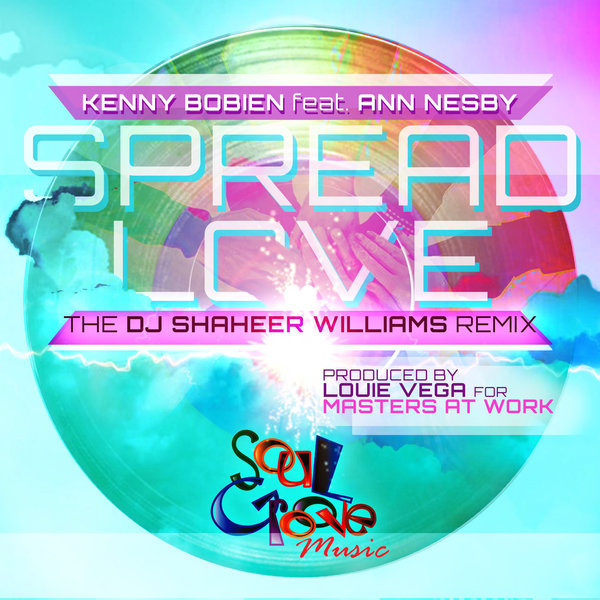 Spread Love
DJ Shaheer Williams Soul Groove Remix

(8:17)
Spread Love
DJ Shaheer Williams Soul Groove Remix Instrumental

(8:17)
DESCRIPTION:

Soul Groove Music comes with another smash release, entitled "Spread love" by Kenny Bobien, featuring Ann Nesby and remixed by CEO and producer DJ Shaheer Williams! Originally produced by Louie Vega of Masters at work, this remix has that classic soul groove sound with an updated twist. Soul Groove does it again!

Visit soulgroovemusic.com
FB: Soul Groove Music
IG: DJShaheerWilliams

REMIX CREDITS:

Remix produced by DJ Shaheer Williams for Soul Groove Music.
Keyboards by Tiger Wilson.
Recording Engineer: Shedrick Guy (B. Room Studios).
Mix Engineer: Dave Darlington (Bass Hit Recordings).

ORIGINAL CREDITS:

(K. Bobien, S. Lerner, L. Vega)
Written by Kenny Bobien, Selan Lerner and Luis F. Vega.
Produced by Louie Vega for Masters At Work.
Keys performed by Selan Lerner.
Percussion performed by Luisito Quintero.
Lead vocals performed by Kenny Bobien and Ann Nesby.
Background vocals performed by Kenny Bobien, Dawn Tallman, Michelle Weeks, Stephanie Cooke and Maurice Lauchner.
Mix Engineer: Steve Barken.
Mix and Protools Engineer: Yas Inoue.

Mastered by RCE.
Mastered at Master Cutting Room.

Published by Off The Top Publishing (ASCAP), That Boy Music (BMI), Soul-On Productions (ASCAP) and Soulmusic Publishing (ASCAP).

Cover art designed by Jose Gonzalez.
Executive Produced by Shaheer Williams.

2021 Soul Groove Music. All Rights Reserved.
Distributed by The Cruz Music Group, a Division of Mixtape Sessions Music LLC.