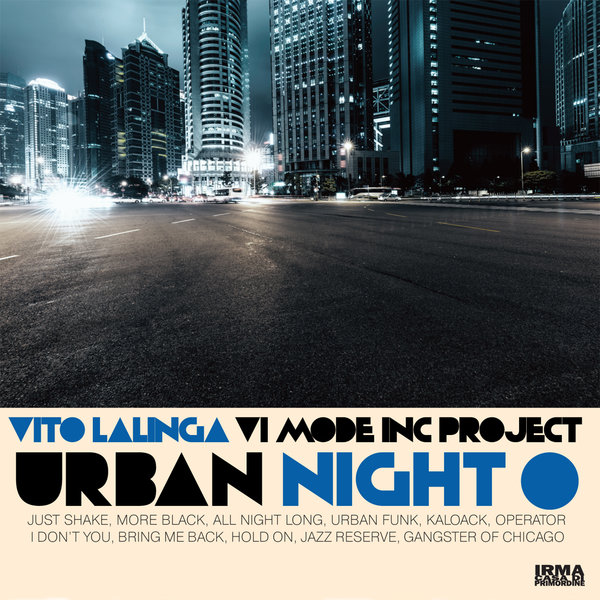 Vito Lalinga's new release (Vi Mode Inc. Project) is a big album titled Urban Night.
The work is in full Irma Records style and inside it is possible to capture all the experience and musical culture of the Apulian Producer. He offers a fresh, sparkling and innovative Nu Funk and Nu Jazz but without losing sight of tradition. He goes from Jazz to Funk, from Afro to the more classic Acid with surprising ease and it is precisely from this twelve-track album that he has extrapolated some of the tracks published on 12inch vinyl entitled Obverse And Reverse ".
The album also contains two reworks of the now ubiquitous Santoro who made a powerful and very Dancefloor Remix of the "Just Shake" track that opens the release and "Gangster Of Chicago" hit from the previous EP.

La nuova release di Vito Lalinga (Vi Mode Inc. Project) è un album di spessore intitolato Urban Night.
Il lavoro è in pieno stile Irma Records e al suo interno è possibile cogliere tutta l'esperienza e la cultura musicale del Producer pugliese. Egli propone un Nu Funk e Nu Jazz fresco, frizzante e innovativo ma senza perdere di vista la tradizione. Passa dal Jazz al Funk, dall'Afro all'Acid più classico con una facilità sorprendente ed è proprio da quest'Album di dodici tracce che ha estrapolato alcune delle tracce pubblicate sul vinile a 12" intitolato "Obverse And Reverse".
L'album contiene anche due Rework dell'oramai onnipresente Santoro il quale ha realizzato un Remix potente e molto Dancefloor di "Just Shake" traccia che apre la release e di "Gangster Of Chicago" pezzo di successo del precedente EP.