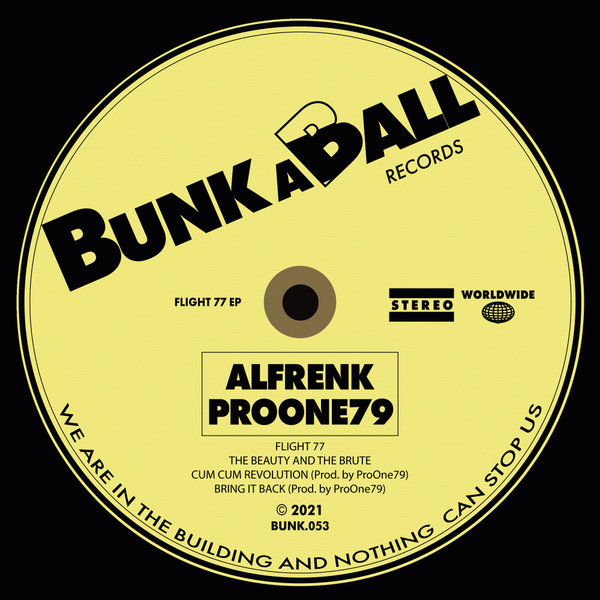 BUNK053 :
Gioele Cantoni aka ProOne79 is a dj producer from Sardinia who loves acid music and oldschool flavoured house and techno. He released music on different labels such as Trax Records, Soviett Records, Fanzine Records and more. His sets are usually filled with the best uderground cuts from House, Techno Chicago Acid and Italo Disco.

Alfredo Rosiello, also known as Alfrenk, is a dj /producer from Naples. He co-founded and runs the labels Sweet Milk Records and Monkey Stereo Records. His tracks have been supported by Marco Carola, Roger Sanchez, Nicole Moudaber, Joseph Capriati, Solardo, Stefano Noferini and many more. Alfrenk has releases with 303 Lovers, Kaluki Music, Under No Illusion, Trax Records, Natura Viva and many more.

ProOne79 debuts on Don Rimini's Bunkaball with a Four track EP. Two by the man himself, and two written together with his friend Alfrenk. If you like acid and techno, this could be the right ep for you !

- Flight 77 is a powerful, no compromise acid techno banger.

- The Beauty And The Brute is one of the tracks Armando, legendary producer from Chicago, could be proud of. Vocal cuts, 303 patterns evolving. this is a beast !!!

- Cum Cum Revolution is an acidic bassline driven cut with 707 drums, weird synths effects, noises and a bunch of short vocal samples.

- Bring It Back is a solid, raw techno track with. some 909 elements, acid bassline and an hypnotizing vocal sample.