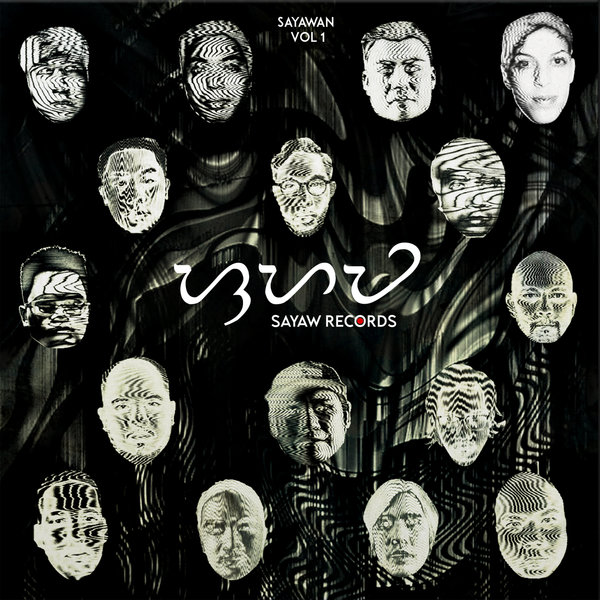 Sayaw Records launches with a 15-track compilation entitled 'Sayawan Vol. 1', from the top electronic music producers based in the Philippines. Connecting listeners with today's most exciting homegrown artists, the compilation will offer not only auditory pleasure but also an open hand for anyone who needs it.

Big Hat Gang – "Jungle Mist"
Makati-based electronic musician Mario Consunji a.k.a. Big Hat Gang specializes in atmospheric textures that gently get into one's head. In "Jungle Mist", his cyclical rhythm takes us to a cosmic wilderness infused with a retro-futuristic tempo.

Gen Thalz – "Singkil (LIVE)"
Existing somewhere in the mind of Marlon B. Zoleta, Gen Thalz manifests a sonic exploration of experimental noise and techno music. Finding the calm in the chaos, "Singkil (LIVE)" sticks out with its methodical loops speckled with a soothing distortion.

Ey Ey – "Walo"
A.A. Enriquez is a sound guy that's had an effect on a bunch of commercials, short films, and video games, but he also makes music for himself under the alias Ey Ey. His composition for "Walo" sets out crunching electronics floating through an ethereal melodic flourish.

Abdel Aziz – "Bolt"
Standing his ground as a pioneering electronic music performer in the Philippines, Abdel Aziz's vigour lies in his forward-thinking mindset. Producing yet again another high-powered anthem for the dancefloor, "Bolt" emits an electric feeling driven by a multitude of synths.

Mica (UK) – "Working For"
Usually found at the core of a heaving crowd, Mica (UK) radiates with a lavish mix of disco and techno behind the decks. Thriving off of the groove-filled house she has built, "Working For" operates under temperate dance rhythms through a kinetic combination of dark, pulsing beats.

Tarsius – "Punla"
With Diego Mapa on sampler and Jay Gapasin on drums, Manila-based duo Tarsius has flourished over a masterful grasp of quality electronic sound. Their latest inception "Punla" springs up with a psychedelic soundscape that grows into a throbbing sensation.

Kikoman Antonio – "Yes! Yah!"
Representing Angeles, Pampanga, veteran DJ and music producer Kikoman Antonio brings the boogie to whatever city he's spinning at. Tracing along a pulsating beat with rhythmic vocal snippets, his most recent mix "Yes! Yah!" is tailored to sing praises.

Don Cerilo – "Excursions (DJ Tools Pts 1and2)"
Decked with a smooth mix of randb, acid jazz, and neo-soul, Don Cerilo is always in the groove. Alluring you towards that underground house vibe, "Excursions" takes a deeper journey into the funky soundscape which sits perfectly into the compilation.

Shoyd – "High Over The Silence"
Hailing from Israel, Shoyd's flair for progressive techno and deep house was destined to keep the dancefloor pumped up. In "High Over The Silence", he pushes his musical boundaries with an innovative funk amidst a nocturnal vibe.

Herb Cabral – "Island Of Refuge"
A familiar fixture in Manila's house music and techno scene, Herb Cabral's brand of sound is ever-evolving. Hopping to "Island Refuge", the DJ lands on a chill-infused bop abetted by waves of tectonic elements weaving in and out of the track.

Silverfilter – "Kargado"
Making his mark as a live-electronic act and a producer, you can always expect something fresh from Silverfilter. Loaded with his influences around the electronic spectrum, "Kargado" carries out a euphoric rhythm that feels familiar and new at the same time.

Alinep – "Take Me"
Born and raised in Manila, Alinep finds poetry in the sonic imprint he has cultivated over the years. Yet again bringing that rhythmic underground sound, "Take Me" clutches onto rich techno thumps and cutting-edge grooves that'll keep you up all night.

Parnassvs – "Summon Thee"
Tech trance, techno, and progressive producer Parnassvs has refined his recognisable touch to the electronic genre. Stacked with gated trance saws and fervent pulses, "Summon Thee" calls for a big room of energy, enticing people to dance it all out with him.

John Odin – "Lilith"
From world stages to intimate spaces, John Odin carries an electric love that speaks volumes.
Serving a hypnotic trance and techno flair in his mix, "Lilith" hits that sweet spot of a sugary euphoria on the dancefloor.

Evo Evolver – "Stay Home"
Evo Evolver is a playground-turned-musical-project created by Myke Madriaga to concentrate on his sonic experimentation. The most recent result "Stay Home" cozies up to highly atmospheric soundscapes with inexorable percussive constructions.