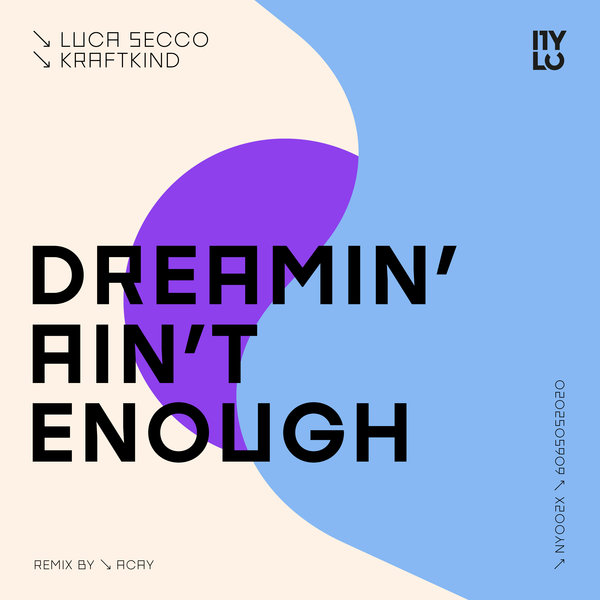 Dreamin' Ain't Enough
NYLO
NY002X | 2020-10-09
With their brand-new single 'Dreamin' Ain't Enough', we welcome Luca Secco & Craftkind to NYLO. 'Dreamin' Ain't Enough' is an irresistible creation of moody basslines, eerie electric wizardry, a seductive echoing and a driving tech house groove. Showing off the duo's signature deep bounce along with soaring synths and lust-filled melodies that make for an Infectious blend of fun and debauchery. 'Dreamin' Ain't Enough' is dance-floor gold in the purest sense, making Luca Secco & Craftkind's first release on NYLO a ground-breaking soundtrack for any occasion, which should not be missed!

Reminiscent of a great open-air party, on remix duty we welcome none other than British maestro ACAY, sounding like being sampled at an after party in an Ice Cream Van. His driving and groovy beats paired with the bumping bassline have you daydreaming about palm tree lined streets rolling by in your Cadillac with a hottie on your side. Part full on tech house, part driving four to the floor house; his remix of is ode to house music that creates a mood that's perfect for any dance-floor. Essential stuff!

Both versions establish so much positive energy and hereby emphasizing the vast musical spectrum this release has on offer. What better way to enjoy the end of summer than with another fantastic release from a great bunch of talent, on a label that is proving to be one of the hottest around! Luca Secco & Craftkind's 'Dreamin' Ain't Enough' sees a worldwide release on October 9th, 2020 via all well-known digital content providers.